Premium Restorations of Nottingham
​Roof Cleaning
0115-647-0066
Driveway cleaning and sealing is one of those house cleaning jobs which is like gutter cleaning and chimney sweeping. It is important to maintain the upkeep of your home and prevent further issues to happen in the course of time. Power washing the driveway is important to prevent build up of moss and weeds which can break up the base of the driveway, but also to maintain the curb appeal of your home which is vital if you are considering selling houses.
Apparently, any advert you get for cleaning a driveway is going to alter depending on the size of your driveway rigour to which it needs cleaning. Nevertheless, the average cost for cleaning a driveway in the UK is roughly £300 inclusive with rough labour cost and potential sealing.
However, if you are looking for a quick jet wash only to brighten up your tarmac or stonework driveway, then it should not be too expensive a job and will be by all odds  done at a cheaper rate around £75-120. However, if your driveway has been neglected for a period of time and needs some serious cleaning, the price can increase. Even with a less big drive, if it needs proper washing and sealing, after the labour charge is added upon, you should be looking at roughly £250 or more and higher amounts for a larger surface area. 
Generally, the total cost for cleaning a tarmac or concrete driveway is between £50 and £600 while that of a block paving is around £63 to £675. Meanwhile, all these costs heavily depend on some variable factors which will be discussed down the line.
Factors That Can Affect The Driveway Cleaning Cost
There are some factors that can affect the cost of cleaning your driveway, aside from that it is always worth taking the time to look for tradesmen to see how price changes.
Few people may try to undersell competition but this might come with the sacrifice of the quality of the job. Below are the factors to keep in mind when budgeting for cleaning a driveway.
The bigger the driveway, the more materials, water and energy to be used. And this will increase the length of time it will take to finish it up. As most driveway cleaning jobs will be quoted in square metres, the price you pay will be mainly affected by your driveway size. 
There are various types of driveways including concrete, resin, block paving and tarmac. A resin driveway requires different maintenance to a standard driveway. In general, block paving is ever so slightly more expensive than a tarmac or concrete driveway, because there is more work involved with preparation and finishing with a block paved driveway compared to other types. You can expect to pay between £0.50 to £1.00 or more per square metre and more for block paving compared with tarmac and concrete driveways. It is important to keep in mind that most driveway cleaning companies will charge additional fees for re-sanding the block paving after cleaning, which can cost anywhere up to an additional £4.50 to £6.50 per square metre.
Moss and weed removal is a necessary thing to do before cleaning a driveway to give it a more professional finish. Additionally, it makes less mess during the cleaning process. Often, companies will charge up to £5.00 per square metre for moss and weed removal, so it is worth considering doing this yourself before getting cleaning quotes so as to reduce the overall cost.
If you do not want moss or weed removal and you do not need resealing or re-sanding, then you can save as much as £8 per square metre which is something that is worth considering a simple clean. Note that re-sanding is easy to do yourself.
Driveway jet washing can remove much of the sand in between the bricks, therefore re-sanding is important to prevent the rapid growth of weeds following cleaning. Resealing a driveway can also help with weed control, but also brings a fresh new look to the driveway.
Resealing A Tarmac Or Concrete Driveway
Resealing a tarmac driveway will cost around £4.50 per square metre, re-sanding a driveway will cost more and usually include sand at £6 to £8.00 per square metre approximately.
Diesel And Oil Stain Removal
Diesel or oil stains on the driveway can be unsightly and extremely difficult to remove. The cost to remove oil stains from a driveway is between £14 .50 to £16 per job. However, this is usually suitable for only a single oil stain, multiple or more extensive stains may cost more to remove.
Metered Or Unmetered Water
Most driveway cleaning contractors will use their own onboard tank to clean the drive and this will be factored into the price. However, check with them that they have and use an onboard tank to know if they will use your water or theirs. This is particularly important if you have a water metre in your home.
DIY driveway cleaning is possible with a simple jet washer. However, the finish you get may not be as good as a professional. Also keep in mind that you will usually pay around twice what it would cost you to do the job.
The more dirty your driveway is, the more extensive the cleaning job will be. If the surface is just bad due to some natural weathering like regular accumulated dirt, grease and rubber marks from your car. It should not bother you much. However if the surface is covered with moss, weed, or oil stains, it will require a strong washing and obviously consume more time. But if you choose to add sealing to the surface which will make your driveway to last longer, more cost will be involved.
Every tradesman has a different price point, but putting the size of your driveway into consideration as well as putting into budget labour and the estimated time it will take to clean it from beginning to ending, you can begin by guessing who will provide the most cost-effective service. Instead, you can choose to DIY, which will insinuate that you have to pay for materials, equipment and a bit more on your energy bill.
Your location can make things more perplexing if you are paying for a professional service. Whereas this may not be as worrisome as having a load of building materials driven down to a rural home in the countryside, you may still meet people charging the same for a call out fee, if your driveway cleaner is not the local one.  It is the same just as with the set living wage and in essence everything in the capital, for instance, if you live in London you can  look forward to paying a small premium. You should be looking at on the average, another £25-50 on top of a typical total, although as usual these figures are likely to vary from business to business.
Cost Of Equipment And Supplies For A Diy Project
Cost of pressure washer (DIY)
A jet washer will cost between £100 and £800, with most people spending around £180 on a home pressure washer which they can use to clean the driveway. As it may only cost this much to have a professional driveway clean, your jet washer can be used over again and usually comes with different attachments which allows you to use it for window cleaning and car cleaning.
Oil stain remover solution
For the cost of paying a pro to clean an oil stain for you, you can buy a bottle of oil stain solution. They vary in effectiveness but cost around £7 to £20 per bottle. 1 to 2 bottles will usually cover a small driveway.
Time Needed To Complete The Driveway Cleaning Job
A tarmac driveway takes about 4 to 10 hours
A block paving driveway takes about 5 to 11 hours
Re-sanding and resealing take about 2to 3 hours.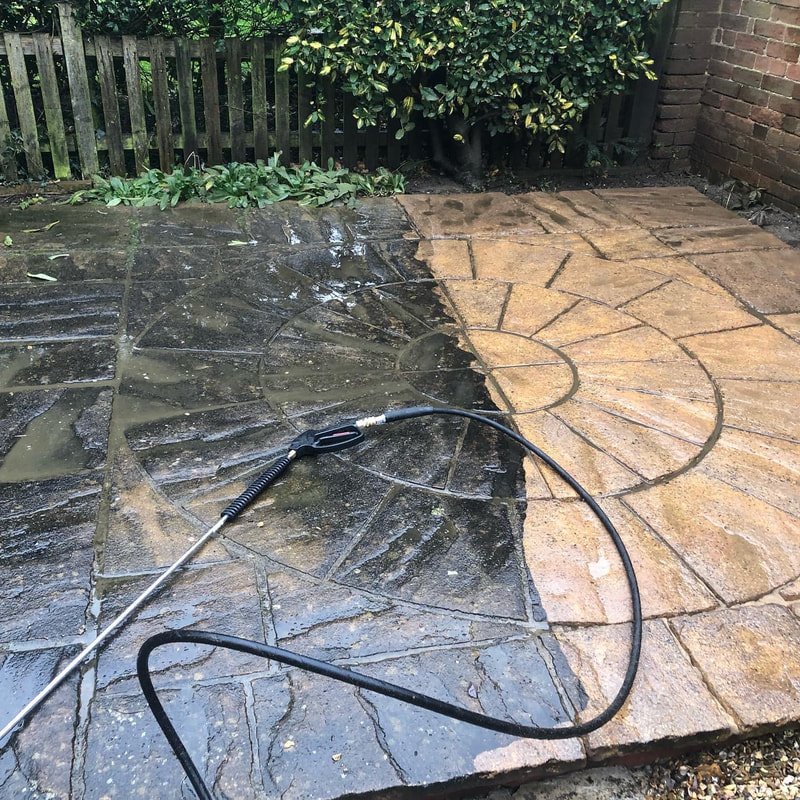 Types Of Driveway Cleaning
Your driveway is usually the first feeling or impression people get from your home or business premises. And a drive in a very bad state or poorly taken care of can affect the reselling of your property as well. So constant driveway cleaning and maintenance will restore back the neat appearance and keep your driveway looking attractive for a long time. Below are the types of cleaning;
Block Pave Driveway Cleaning
Block paved driveway look fantastic when laid first, but after years  of use, the top surface of the block wears off leaving the aggregate showing through that it was used to build up the blocks. Without block paving driveway cleaning, your driveway can rapidly begin to appear dirty, covered with moss and algae, while allowing weeds to grow through the joints.
Pattern-Imprinted Concrete Driveway
This can be the best driveway to choose with regards to maintenance. It demands cleaning and resealing, but it will last longer and will be looking neat all year round, with no weeds and moss able to grow. And you only need a simple garden hose to wash off any dirt. There are some companies that offer pattern imprinted concrete driveway cleaning and high quality sealing during the summer months, meaning that with the ongoing but minimal maintenance, your driveway will remain wonderful for another 3 to 4 years. 
Tarmac Driveway Cleaning
Tarmac driveway is a rampant choice for driveway as it appears smooth and clean when laid first. There are negative sides though, but with time the surface fades away, and the moisture filters through the porous surface, so moss and algae can grow on any shade areas. If unluckily you have an oil leak on top of your drive, the oil based tarmac means that it is almost impossible to remove the oil without as well removing some of the colour of the tarmac. But the good news is that, because there are companies who can recoat your faded tarmac drive to restore it back to its previous look, and then add a finishing touch with a tarmac driveway cleaning by applying treatment to kill off and prevent the regrowth of moss and algae.
Resin-Bound Driveway
Using resin for a driveway is relatively a new concept. Not many people have experience with this type of surface. It is effectively permeable and should not hold water at all, so the rate of moss growth is reduced. However, it can develop surface mould and algae which needs to be cleaned to extend the life span of the surface and prevent it from becoming slippery. Resin bound driveway cleaning should be carried out by an expert, as the surface is not suitable for high standard pressure cleaning and requires professional equipment. These experts firstly pre-treat the surface with a biocide to gently melt down any organic growth. Once the treatment has enough time to do its work, they then return to clean it all away with a low pressure washer so as to complete the task.
How To Clean A Driveway
You may not pay any attention to how your driveway looks frequently, but a well maintained driveway provides a great impression of your home. Despite its hard exterior, unsealed concrete is porous and simply absorbs liquids, which can lead to difficult stains. The texture of the surface also provides enough crack for dirt, moss, and other materials to build up. Stains of oil, ground-in leaves and dirt and everyday wear and tear make checking this home betterment job off your list looks overwhelming initially. To clean a spotted  and soiled concrete driveway, you will need something that will as well sink in and lift offending spots. Covering the stains with sawdust, baking soda and other absorbent material can take care of fresh surface spills, but work very little to absorb what sinks below the surface. Trisodium phosphate(TSP) is popularly used to clean oil off your driveway. It is a strong alkaline, so it will not harm the surface but it could cause skin irritation and even burns. TSP is also very hazardous for the environment. If it ends up in lakes and streams, the phosphate triggers an overgrowth of algae that turns out to be depleting oxygen levels in water, which can endanger fishes and other aquatic life. To maintain the initial brighter colour of a driveway a lot of homeowners turn to cleaning with bleach, but it is not advisable to power wash with bleach because it can damage your pressure washer. It is suggested to use simple green oxy solve concrete and driveway cleaner with a power washer for manual cleaning of concrete surfaces like driveways, sidewalks, patios, and walkways. It improves the look of oil stains and removes grease, dirt, and other discoloration while still being non-corrosive and non-degrading as well. Its biodegradable formula is safe for lawns and pressure washing equipment alike.
Frequent cleaning of at least once every year or every six months can help maintain your home's curb appeal.
Directions For Cleaning A Driveway
Before cleaning, hose down your driveway and allow it to dry. Also wet all close by plants, shrugs, and grass with water. If your surface is stamped or colored and you are going to be making use of a pressure washer, test your surface compatibility in an invisible area with and without a cleaner.
Prepare your pressure washer –

pour in some full strength

TSP

solution

into your pressure washer detergent tank.

Apply the TSP solution –

use the low-pressure spray nozzle to apply the mixture to the driveway and let it sit for 7-10 minutes. Do not allow it to dry out before rinsing off, work in sections if it is important to achieve this. 

Rinse the driveway –

Remove the syphon tube from the tank and rinse off at high pressure setting.

Rinse surroundings landscaping –

when the cleaning is completed, use a garden hose to rinse plants, shrubs, and grass and water-in any foam or puddle of cleaner and water.
Manual Application
Prepare your mixture;

mix 2 cups of the solution with a gallon of water in a separate container.
Scrub;

Scrub the area in different sections using a soft bristle brush or deck brush. Do not use a metal brush, as it could shed tiny little fibres that can eventually leave rust spots.
Soak;

let the solution rest on the surface for 5-7 mins. Do not allow the solution to dry before rinsing or it will be difficult to remove.
Rinse;

rinse with a garden hose, at the highest possible pressure
Repeat again;

move to a new section and repeat the same thing over again until you are done with cleaning the surface.
How To Make An Accurate Estimate Of  Your Driveway
Building or replacing a driveway can be expensive, but taking careful measurements during the planning stages will keep the cost of materials to a minimum during the construction stage. Proper calculation also prevents an unwanted abundance of unused concrete, asphalt or other driveway materials after the project is completed while ensuring a faster and more efficient construction process.       
Calculate your needs
Think about the number of cars you will park side by side as well as the number you will park in front of one another. Take note of the distance remaining from the street to your garage, or to the end of your new driveway. Consider that a typical double garage is 16 feet wide when calculating the desired width.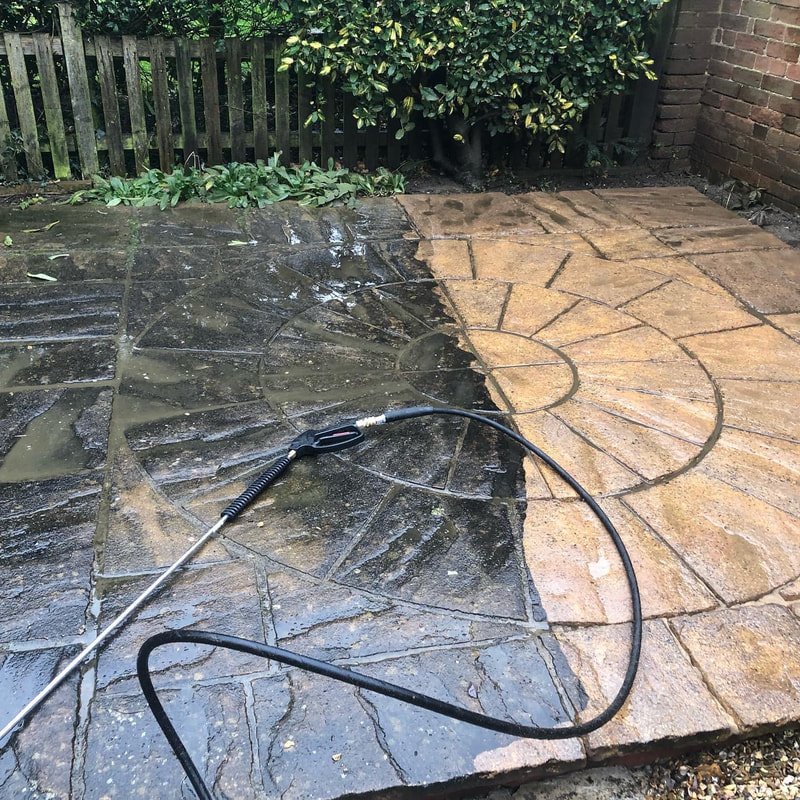 Workout the areas of total square footage
Measure the length and width of the new driveway in feet. Multiply these two numbers together to find the total square footage of the area. Example, a 20 by 40 foot driveway has a total surface area of 800 square feet. If a builder or a concrete supplier demands measurements in square yard, divide this number by 9 square feet per square yard.
Use chalks to assist you with irregular shapes
Mark an unevenly shaped driveway off with chalks or strings into as many square sections as you can. Measure the surface area if each of these sections or if all sections are the same size, measure one and multiply its area by the number of square sections. Example, a driveway marked into 80 sections of 10 square feet each has a total area marked of 800 square feet. Copy this number down in your notebook and proceed to measure the irregular sections.
Figure out the area of any circular sections
Measure circular sections by first calculating the radius. Find the radius by measuring the diameter, or the distance across the circle through the centre, then dividing that number in half. If the circle's distance is 26 feet, its radius is 13 feet. Find the square of the radius by multiplying the number by itself. Example, multiply 13 by 13 to get a total of 169. Multiply the square of the radius by pi, rounded to 3.1416. So 169×3.1416 is = 530.9304, which rounds to 530.9304 square feet.
Calculate the area for a circular driveway
Calculate the area of a circular driveway by searching for the total square footage of the circle formed by its outer edge, then measuring the circle formed by its inner edge. If the diameter of the inner edge is 7 feet, its radius is 3.5. Square the radius to amount to 12.25. Multiply 12.25 by pi for a total of 38.48 square feet. Minus the inner measurement from the outer measurement. If the outer area is 380.13 square feet and the inner is 38.48, the total paved surface is 341.65 feet. 
Items needed for measuring are as follows
Please note that not all sections of a driveway are formed to a perfect square, triangles and circles. When measuring these sections, mark off a shape a little bit larger than the actual surface to form one of these shapes. You are satisfied with having some additional concrete than too small when you pour the driveway.
Services Included In  Cleaning A Driveway
The best and fastest way to clean any driveway is with a pressure washer. These cleaning machines will spray a high volume of water at a high pressure and even temperature in order to hasten up cleaning. For pressure washing a driveway, it is recommended to use a washer with pressure of at least 3000PSI(pounds per square Inch). Once you have your pressure washer and a driveway to clean, follow the instructions below to make your driveway sparkling new: 
Clear your driveway:

Move cars, detritus and moveable garden and toys to make the way clear for pressure washing.
Deal with grease and oil:

Soak up any spot of excess grease or oil spills with saw-dust or cat-litter. 
Use chemicals:

Pre-treat the driveway with a pressure washer detergent or degreaser as needed. It is a good idea to let the cleaning mixture sit for around 7-10mins before power washing to ensure the best results. 
Pressure wash:

Position the high pressure stream over the entire surface of the driveway, removing dirt and grind along the way. When you are through, your driveway will look as good as brand new again. There are few choices you have once you start using a pressure washer. If you have a few questions about which nozzle or accessories you need for pressure washing, the most popular configuration is to put a 26(green) nozzle to the end of your pressure washer gun, this will help remove dirt and sweep as well, as you proceed. For things like gums and pitch, a 15(yellow) nozzle is just perfect, because this Nozzle can be used inform of a chisel to scrape things off the driveway. If you want to fasten up the process even more , there are few pressure washer attachments that can still be of assistance they are:
Water Broom –

this pressure washer attachment will have different nozzles lined up along a bar to clean a larger area in one pass. Water brooms have castors that keep the nozzles the same height over the surface while pressure washing the driveways. This means that you will not get the striping related to holding the tip at varying heights above your surface.

Rotary Turbo Nozzle –

a rotary nozzle will focus the water into a very fine stream, but regularly rotate the stream in order to cover a wider surface. This is very useful when cleaning concrete, bricks, pavers and even houses too. Covering a wider area means that pressure washing driveways will take fewer passes and less time unlike the water broom that can wash a driveway in one passing with less time.

Surface cleaner –

this is the fastest choice for pressure washing driveways. These machines have 2 or 3 nozzles attached to the extreme of a rotary arm that spins covering areas of 8 inches all the way up to 30 inches. Pressure washer surface cleaners have handles for you to hold onto, allowing you to simply push them over the entire driveway cleaning as you move. Like a water broom, a surface cleaner can get rid of zebra striping by keeping your nozzles at a uniformed height during the whole time cleaning process.
Conclusion
With the discussions in this article, we believe that it has given you an insight or help to identify whether your driveway requires cleaning or not and how much you can spend for your driveway cleaning. You can always work with what your budget allows, considering that there are several options and many ways to give your driveway a new lease of life.