Premium Restorations of Nottingham
​Roof Cleaning
0115-647-0066
How To Prepare Your Driveway For Cleaning
Advantages Of Having A Clean Driveway
Relaxation Through Order
This means that getting your driveway cleaned can help to increase a good frame of the home the moment you get to your home. Driveway cleaning is especially necessary for those who drive back from work to their homes, as a clean driveway can assist you to switch off the stress mode of the day the moment you pull in. While this may not be as noticeable during the winter, it is  exceedingly obvious in the summer when they have more hours of daylight. 
Friend And Neighbours Appreciation
Nobody likes seeing a neglected driveway with grimes, detritus and weeds making a bad impact on the surrounding as well. Driveway cleaning will ensure that your neighbours are kept in a good mood and if you frequently take pride in your driveway there are chances that they will do the same too. If you have friends coming over, the driveway is the first thing they are going to notice and a perfect driveway will assist to make a great impression.
Increases The Value Of Your Home
As well as making your friends and neighbours proud and happy, a clean driveway will also help to impress estate agents and potential buyers, if you plan on selling your house someday. First impressions matter and a clean driveway will put everyone in a good state of mind, buyers will often decide if or not they like a home with much hesitation. So it is necessary and essential to make your house appear as neat and perfect as possible during those periods.
Cleaning Your driveway
Below you will find a list of popularly used products for cleaning up fresh spills and sets of stains, along with the instructions on how you should go about it.
Before you proceed to clean the driveway, check to see if you have the following items.
Broom

Dustpan

Mop

Bucket

Spray bottle

Cat litter

Gloves

Non metallic brush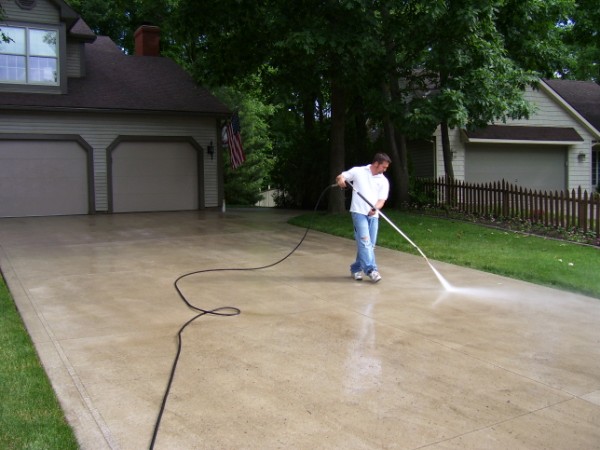 These items depend on the size of the stain and how much of your surface needs cleaning, you may not need everything mentioned on the list. If there is not much liquid on the surface and you are ordinarily doing a standard cleaning, sweeping the surrounding of any loose detritus before using the cleaning pattern below. 
Note that all of the methods below will need a non metallic brush to remove stains, this is because the use of metallic brush can leave behind metal bits that will turn into rust and stain your surface.
Good Cleaning Products For Use 
Soda
It can be used to remove grease or oil stain, as odd as it may sound, it is absolutely true. This is because of the 3 major ingredients found in soda which are
Carbonate water, a solution known as carbonic acid.

Phosphoric acid

Citric acid.

 
These 3 acids work to release the grease from your surface. Pour out the soda and let it sit on the surface for 20-30mins, this depends on the size of the stain though, you may use towels, mop, scrub brushes to take care of the remaining with cleaner and water.
Detergent
This is recommended for smaller grease spills. Some strong detergent mixed with water, a scrub brush, and a sponge should be able to do the magic.
Vinegar And Baking Soda
Cleaning your surface with vinegar or baking soda is a good choice if you are looking for a natural cleaner. While cleaning the surface with bleach or detergent can be effective, it can as well be toxic to plants. If you're cleaning your driveway or a sidewalk and you are bothered about closet plants, this solution is for you.
Bleach
If a very large area of your driveway needs a good cleaning, you should fill up a bucket with warm water and add about ¾ cup of liquid bleach and start mopping. Let the bleach solution rest for a few minutes on the surface before using a bucket with clean water to mop or rinse the bleach mixture. It is necessary to keep in mind that you should not mix bleach with other household cleaners and should also put on hand gloves when scrubbing with bleach to protect your hands. 
Contact: Premium Restorations of Nottingham