Premium Restorations of Nottingham
​Roof Cleaning
0115-647-0066
HOW MUCH DOES IT COST TO CLEAN A ROOF UK

The decision to clean a roof is made when unwanted materials like moss, algae, and others begin to grow all over the roof. If you neglect your roof, you will find plants and all these unwanted materials accumulating and growing out of control upon your roof. Their roots will find their way into weaknesses in the roof tiles and widen them until cracks begin to appear. You will find your tiles or slates come loose, and eventually call for a replacement. These unwanted plants need water to survive, and when it rains, they will gather the water as much as they can. This then finds its way through the cracks into your roof where it damages the rafters and joists. Then moss will come loose and roll down the roof through the gutters which causes an overflow and saturation of water inside the roof gutters and this damages the fascia boards.
All of these troubles can be avoided by regularly removing any moss build up. One of the fastest ways to improve the look of your home is to have your roof cleaned. Getting rid of the moss and anything else occupying the roof of your house can transform the look of your home into a brand new look.
Getting Quotations
The first step to get the average cost of cleaning a roof in the UK is to get some free quotes. A minimum of three free quotes should serve for the purposes of comparison. But you can get as many free quotes as you can in order to make a thorough comparison of prices. Having gotten the quotations and choices made, the next is to initiate the contract.
 If you are speaking to someone on the phone from a roof cleaning company or contractor, make sure to give the person as much information as you can. It might be a good idea to take some pictures of your roof and send them to the company or contractor so that they can see how bad it is and what needs to be done. These companies in most cases will want to come for inspection before providing you with a quote.
The Average Cost Of Roof Cleaning In The UK
There are a lot of variations in cost when it comes to roof cleaning and there are many different factors to take into account before you can figure out the cost of having a roof cleaned. The most significant factor to take into consideration is, which part of the UK do you live? If you live in London, you can expect to pay more because the cost of living in London is much higher than the rest of the UK. The more populated the city you live in, the more competition there is for tradespeople. Simple things like car parking might affect the final cost of cleaning your roof in London.
For a one roofing cleaning company to clean your roof in London, you could expect to pay roughly £400 to £500.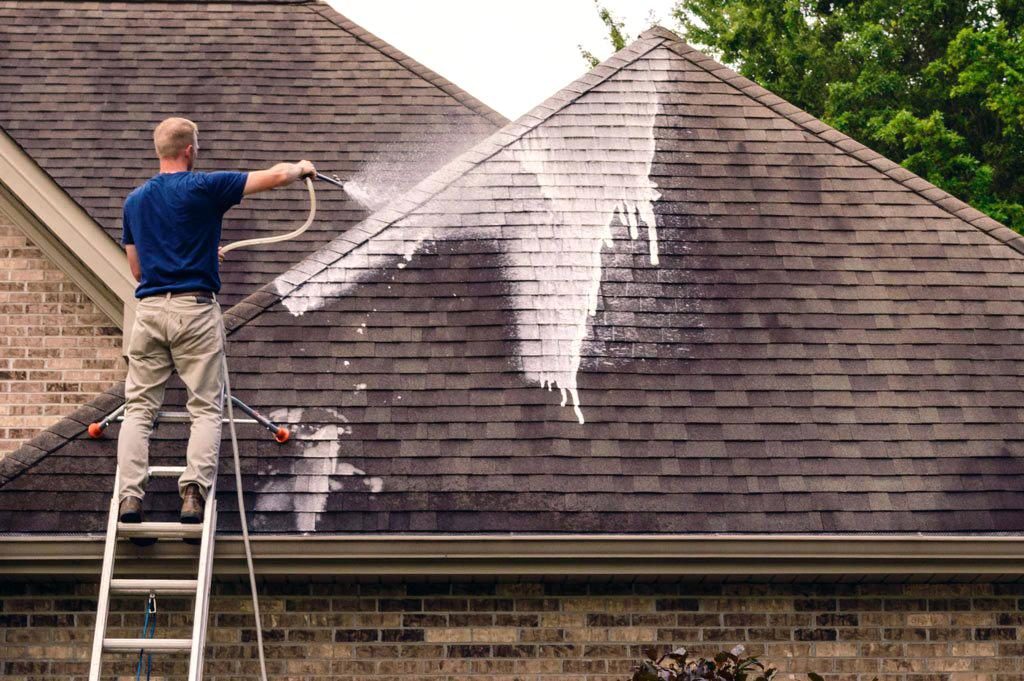 A business based in the Midlands or the South will have to pay lower than in the capital. The prices in the Midlands or South could be around £350 for the same roof cleaning as above.

The price decreases from what it is in the south as you go up the northern part of the UK. A small one man operation can charge as low as £300 for cleaning your roof in the north.

The larger the company that is doing a roof cleaning job, the higher the price. This is a well known rule of thumb. A roof cleaning company with up to 5 employees is likely to charge £600 to clean your roof in London, but will charge between £450 to £500 in the Midlands and the south. In the north, they will charge around £400.

A large roof cleaning company with up to 10 employees will charge as much as £850 in London, £550 to £650 in Midlands and the south, and £450 to £550 in the north.
Factors That Affect Average Cost 
There is a cost attached to this action. The roof cleaner needs to inspect the roof carefully in order to ascertain where the damages are and what needs to be done. The cleaning contractor during this assessment will answer questions like, what kind of plant is growing and the best way to dislodge the growth? Is the roof made from tiles, thatches or slate because each has to be dealt with differently. Check if there are existing cracks in the tiles and if the mortar crumbles. Work out what access method and safety equipment that will be needed, and then do a risk assessment.
Pressure washing and Roof Jet
Remove gutters and check for obvious broken tiles. Spray biocide to kill the moss. Then use hot water and a high pressure spray hose to dislodge the moss and wash the roof. Always spray from the ridge down to the eaves, never the other way round. This is because you must not allow jet to spray under the overlapping tiles. The spray may break the tiles and allow water into the loft. When done with the spraying, perform any repair where necessary. Allow the roof to dry after which you can apply sealants to the tiles. The method of cleaning the roof tiles using a jet washer will cost around £600 to £1100, and will take about 1 to 2 days to complete depending on the roof size and the number of repairs.
For some homeowners who do not want their roofs to be washed, but only want the moss cleaned from the roof. They can adopt the use of scrapers and long handled brooms to remove the vegetation. First, spray the biocide. Then scrape off all the moss followed by a thorough brushing to remove all dirt. Inspect the roof for any damages and conduct repairs where there is need. Clean the gutters of the roof and the downpipes. A coat of tile sealants can be added to avoid the regrowth of the moss. The price for this method of cleaning is between £600 to £1500 and will take about 2 or 3 days to complete depending on the roof size and the number of repairs.
Application Of Roof Sealants And Colour
Sealants and colours can only be applied on a clean roof after jet washing. Allow tiles to dry thoroughly and brush any dust from the roof. Apply coloured or translucent seal to the edges of the roof. Carry out this by hand to avoid or reduce spillage and waste. Then, use a spray to apply the sealer to the other tiles. Allow the sealer to dry and coat a second round. The cost to have a jet wash and a sealant application is from at least £1200 to £2500. This price will also depend on the roof size. The sealant will take about a day to be strong on top of the cleaned surface.
Cleaning Of The Entire Roof
Even though a broom can be used to remove moss, using a high pressure hose is much easier. This is because working at height is not an easy task. Body harnesses must be worn with a safety line in order to prevent falls. Walk along the ridge tiles to start and apply a biocide treatment to the moss. Work your way down the slope as you go. After the moss dies, remove it from the top of the roof. After cleaning the entire roof, you can help prevent the moss from coming back by applying a coat of sealer. If you have a slate roof rather than tiles, you have to be very careful because slate is more fragile and will easily break if the water pressure is excessively high. If you have a thatched roof, do not use water at all. Instead, shave off a few millimetres from the straw and the vegetation will fall off.
Conservatory Roof Cleaning
Conservatory roofs require cleaning just like any other roof. In general, the pitch is very shallow which poses more chances of collecting dirt. But because a conservatory roof is usually made from plastic or glass, there are fewer places for the moss to take hold. Use the same methods as for a tile roof. Do not abandon to spray from the top downwards so as to prevent water from getting under the lead flashing and other places. If you intend using a sealer on this, make sure it is compatible with the conservatory roof material and its translucent.
All working at height needs an access platform, ladder and a safety harness. Make sure you know how to use the safety apparatus and the platforms. Ensure that the ground around the perimeter of the building is protected. Place sufficient plastic sheets around to collect all the waste.
What Is Included In A Roof Clean
Power washing
A lot of companies will prefer to use a pressure or power washer to clean moss and dirt from your roof. It is a faster technique that flushes the debris on to your driveway or the ground below for them to be disposed of. This method is generally safe for most properties, but may not be suitable if your roof tiles are particularly old and vulnerable. The cost of pressure washing your roof can range from £8 to £15 per square metre.
Manual cleaning
Manual cleaning is another method of removing the moss, debris and dirt from your roof using a scraper and brush. Then, a biocide will be applied on the cleaned areas to prevent a re-growth of the moss. This method can be more time consuming, but it is generally more affordable and safer for weaker roof materials. The cost for this method of cleaning is around £5 to £12 per square metre.
What Are The Benefits Of Having A Clean Roof
There are many benefits and reasons for cleaning your roof.
Most people or homeowners who have their roofs cleaned tend to have it cleaned for aesthetic reasons. Cleaning your roof can immediately refresh the appearance of your property. Removing dirt and moss can make your roofing tiles look brand new once again without replacing the roofs at all.

Another reason is to prolong the lifespan of the roof from being shortened by build up of moss, dirt, algae and lichen. Frequent cleaning of the roof can significantly enhance the lifespan. Remember that similar to a sponge, moss absorbs moisture. Over a long period of time, the moisture can move under the roof tiles thereby causing rot and other expensive structural damages.

Moss can be known to attract wildlife such as birds and insects. Not only does this affect the appearance of your property, but they can also cause damages to the roof tiles and guttering. When there is no moss, algae or unwanted materials on top of your roof, wildlife will stay away from your home.

The debris and moss covering your roof can fall down into the guttering and cause damage or blockages in the drainage system of your building. This hinders the gutters or downpipes from the normal flow of water or liquids which leads to expensive water damage. This issue can be avoided by roof cleaning.

Protection of the property values is another benefit of roof cleaning. If you are looking to sell your property, a clean roof can significantly increase the value and interest of your home. A moss free roof will give the buyer the impression that the property is well cared for and was kept in good condition.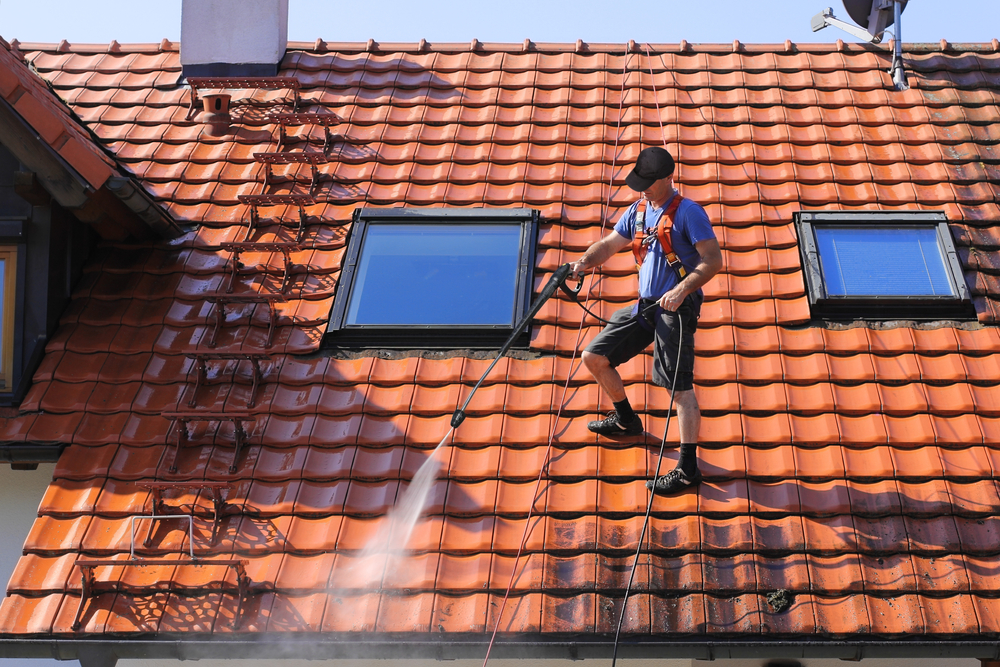 What Factors Affect The Cost Of Roof Cleaning Uk
The average cost of cleaning a roof varies depending on a few different factors such as size, what method you choose to use for the cleaning, and how easy it is to gain access to the roof. In the UK, a typical terraced three bedroom apartment costs between £5 and £12 per square metre for only just a clean. But cleaning and sealing costs from £25 to £40 per square metre. The major factors that will affect the cost of your roof cleaning are as follows;
Size of the roof or house to be cleaned; the larger the size of your property, the more expensive the cleaning will be. Before the cleaning is carried out, the contractor will evaluate the size of your roof in order to come up with a price.



The number of repairs needed; the state of the existing roof tiles will also play a big role in the final cost. If they have not been cleaned before, or are essentially very old, the roof needs to be treated and possibly be replaced. This should be covered in the initial assessment that the contractor will undertake.

What quantity of vegetation is growing on the roof; if the roof has been left unattended to, and has gathered an additional layer of moss on top of the tiles. The longer you leave this without cleaning, the longer it will take the contractor to remove and clean them because time is money when it comes to roof cleaning.

Type of roof; the type of roofing material will determine the type of cleaning method and equipment to be used.

Accessibility of the roof; if the roof cleaning company that will do the work for you requires scaffolding to access your roof, expect to pay more for this to be arranged. This is not an issue with most buildings, but can become an issue for skyscrapers.

Height of the roof; For safety reasons, a roof cleaner will be required to use special equipment when attending to a particular height of roof. This should not come as a surprise and should be made clear from the onset.

Will the roof be power washed or cleaned manually using scrapers; it is more expensive to use a power washer than cleaning the roof manually.
A hand clean will take much longer than a jet washer. You will also have to take into consideration the time of the year, as winter months have shorter daylight hours and more chances of rainfall. Also be reminded that prices in London and its surroundings are generally more expensive than elsewhere in the UK, at least 20% more. There will probably be many moss removal companies in your area. The smaller ones usually charge less than the larger companies because of the fewer overheads they have. Do not dismiss or expel the smaller companies or single tradesmen out of hand, they often take more care over their work and are not always rushing off to do the next job.
Do You Need Scaffolding To Clean Roofs?
Scaffolding is not just a needless item or equipment on your home or commercial property. It provides roofers with safe temporary access to your roof. The structure or platform supports materials, allowing roofers to work from the top of the scaffold instead of having to go up and down all day with bits of materials.
There are also some instances where Scaffolding is not suitable, particularly awkward and hard to reach areas of a building. It might be a better option for buildings with more than two storeys, to be accessed using a powered platform.
Scaffolding and specialist equipment will need to be used to ensure safe access to the roof space. 
The cost of using a scaffold will depend on the height and the position of the roof. Some companies use powered platforms to access the roof instead of scaffold and ladder. Smaller companies or contractors and some individuals who want to clean their roofs by themselves can use ladders. This is true because they might not afford the cost of buying or renting scaffold and powered equipment.
What Chemicals Are Used For Cleaning?
There are a lot and types of chemicals used for roof cleaning and the killing of moss. All have their advantages and disadvantages. These chemicals are
Bleach based solutions: These are chemicals mostly used for stubborn stains and discolouration. They are very strong. You do not need to scrub or rinse the roof down for them to work. Simply apply them to the roof and let them dry. The bleach will eat through the dirt and grime all on its own. However, they are extremely harsh. They can disturb you if you breathe in their vapour and can cause havoc on your plants. These chemicals are so strong that you should try to keep your windows closed for a few days to avoid the fumes and odours from entering into your nose or polluting your fresh air.

Chemical based solutions: These chemicals are made from some formulas that feature ammonia, copper sulphate, and trisodium phosphate all of which can do a great job of removing stains, moulds and moss that grow on the roofs. These formulas can also be harsh as well, though to a lesser degree than bleach based solutions. They usually come in concentrates, which will make them to be mixed with water unless they will be used for a stubborn stain

Sodium hydroxide: Some contractors still use sodium hydroxide, one of the first chemicals found in roof cleaners. It is a high alkaline product, sometimes called lye or caustic soda. If it is used in high concentration and left to sit on any type of asphalt, it can loosen or dissolve the bond of the shingle and granules since sodium hydroxide will break down petroleum-based products like asphalt. However, fewer and fewer of today's shingle are made with much asphalt. If this product is not completely removed from the surface, it can be activated again by the drops of liquids like rain and will continue its chemical reactions on the petroleum based products
Dry powder moss killer: This kind of powder is hard to dispense and washes off in the wind. However, it kills moss within one week.

Liquid moss killers: These can be applied from the ground using a spray and it give more coverage than a dry powder. But it can be hard to keep track of where spray has been applied and usually more expensive than a dry powder spray.
Roof Coating
Roof coatings are coloured paints which help to seal the tiles, and they are usually applied to improve the aesthetics of the roof.
Majority of roof cleaning and pressure washing will include a treatment of roof coating. The average cost of a roof coating for a semi-detached house is between £1500 to £2000. This depends on the size of the house as well. Most coatings should last around 6 to 8 years. Though the job is mainly done for visual appeal, the roof will be properly cleaned and have a fungicide applied as part of the job. It helps to reduce the growth of moss and improve gutters with a better flow off the roof.
The main chemicals in roof coating are
Acrylic polymer resin:

These resins provide strength, durability and toughness to the roof tiles. The resin provides the coating with flexibility and also act as durable binders that hold the coating together, thereby providing adhesion and water resistance.

Fire retardants

: These chemicals provide essential coverage to your roof in the event of a fire outbreak. They suppress smoke eruption and stop flames from spreading further

Titanium dioxide

: This is a pigment that adds durability and reflectivity. It makes the coating white and still blocks UltraViolet (UV) rays from reaching the material below.

Zinc oxide

: This chemical is very important in resisting the growth of algae and mildew. It is tough and resistant to water. And it does not deteriorate after being exposed to UV rays.
The Average Cost Of Having A Professional Roof Cleaner Come In And Do The Job For You
The experience of a roof cleaning contractor is indispensable. Professional roof cleaning is well worth it for peace of mind and as far as administering herbicide or fungicides and sealants on the roof for safety reasons.
The average cost for a professional roof cleaner to come and do the job will heavily depend on the size of the house or building and the type of cleaning method to be used.
A manual cleaning by a professional for 2 bedroom terraced house is between £500 to £600, 3 bedroom semi-detached house is between £600 to £700 while 4 bedroom detached house is between £850 to £1000 plus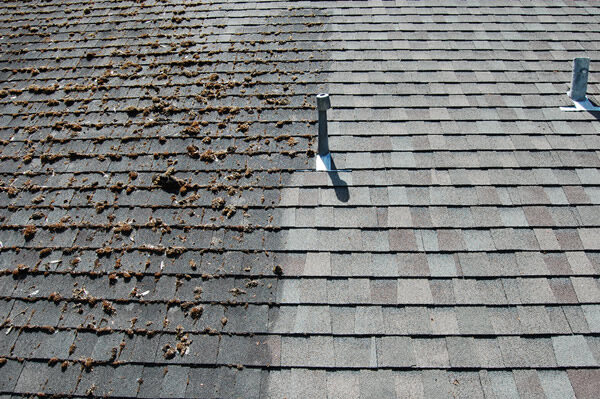 A professional roof cleaner using pressure washer will charge £600 to £750 for 2 bedroom terraced house, £700 to £850 for 3 bedroom semi-detached and £950 to £1100 plus for 4 bedroom detached house.

Cleaning using biocide treatment is around £800 to £1100 for a 2 bedroom terraced house, £900 to £1200 for a 3 bedroom semi-detached house and £1150 to £1500 plus for a 4 bedroom detached house.

Cleaning with biocide treatment and sealants: £1200 to £1500 for 2 bedroom terraced house, £1300 to £1600 for 3 bedroom semi-detached house and £1400 to £1800 for a 4 bedroom detached house.

Additional costs of repairs to tile and guttering are £150 for 2 bedroom terraced house, £200 for 3 bedroom semi-detached house and£450 for 4 bedroom detached house.
Step By Step Guide On How To Clean Your Roof
Inspect the job from the ground and conduct a risk assessment to identify the risks involved and how to reduce them. Decide on what access equipment to rent, and the type of tools that will be needed.

Erect the scaffolding while paying attention to piercing the roof edge

Cover the ground with tarpaulins to protect the garden from chemicals

Disconnect the gutters from brackets and downpipes

Check the roof for obviously broken tiles and make a replacement where necessary.

Confirm that the cement areas are in good condition otherwise repair.

Treat roof with a biocide and allow to dry 

Clean the roof with a power washer and scrapers

Clean the gutters

Apply sealants to roof tiles

Clean fascia boards and soffits

Remove access platform

Clean up all areas and remove tarpaulins

Dispose of waste materials

Process payments
Services Included In  Cleaning A Driveway
The best and fastest way to clean any driveway is with a pressure washer. These cleaning machines will spray a high volume of water at a high pressure and even temperature in order to hasten up cleaning. For pressure washing a driveway, it is recommended to use a washer with pressure of at least 3000PSI(pounds per square Inch). Once you have your pressure washer and a driveway to clean, follow the instructions below to make your driveway sparkling new: 
Clear your driveway:

Move cars, detritus and moveable garden and toys to make the way clear for pressure washing.
Deal with grease and oil:

Soak up any spot of excess grease or oil spills with saw-dust or cat-litter. 
Use chemicals:

Pre-treat the driveway with a pressure washer detergent or degreaser as needed. It is a good idea to let the cleaning mixture sit for around 7-10mins before power washing to ensure the best results. 
Pressure wash:

Position the high pressure stream over the entire surface of the driveway, removing dirt and grind along the way. When you are through, your driveway will look as good as brand new again. There are few choices you have once you start using a pressure washer. If you have a few questions about which nozzle or accessories you need for pressure washing, the most popular configuration is to put a 26(green) nozzle to the end of your pressure washer gun, this will help remove dirt and sweep as well, as you proceed. For things like gums and pitch, a 15(yellow) nozzle is just perfect, because this Nozzle can be used inform of a chisel to scrape things off the driveway. If you want to fasten up the process even more , there are few pressure washer attachments that can still be of assistance they are:
Water Broom –

this pressure washer attachment will have different nozzles lined up along a bar to clean a larger area in one pass. Water brooms have castors that keep the nozzles the same height over the surface while pressure washing the driveways. This means that you will not get the striping related to holding the tip at varying heights above your surface.

Rotary Turbo Nozzle –

a rotary nozzle will focus the water into a very fine stream, but regularly rotate the stream in order to cover a wider surface. This is very useful when cleaning concrete, bricks, pavers and even houses too. Covering a wider area means that pressure washing driveways will take fewer passes and less time unlike the water broom that can wash a driveway in one passing with less time.

Surface cleaner –

this is the fastest choice for pressure washing driveways. These machines have 2 or 3 nozzles attached to the extreme of a rotary arm that spins covering areas of 8 inches all the way up to 30 inches. Pressure washer surface cleaners have handles for you to hold onto, allowing you to simply push them over the entire driveway cleaning as you move. Like a water broom, a surface cleaner can get rid of zebra striping by keeping your nozzles at a uniformed height during the whole time cleaning process.
Conclusion
With the discussions in this article, we believe that it has given you an insight or help to identify whether your driveway requires cleaning or not and how much you can spend for your driveway cleaning. You can always work with what your budget allows, considering that there are several options and many ways to give your driveway a new lease of life.
How Often A Roof Needs To Be Cleaned
It is recommended that you have your roof cleaned or at least inspected for moss, algae or lichen growth once in every year before the beginning of winter. However, the rate at which the moss grows back will depend on the following
The quality of the previous cleaning job. This is why it is good to have professionals do the work for you. If there was shabby work done by your contractor, it will not be long before you will start noticing some re-growth of the moss.

The position of the roof in relation to sunlight. If the roof is under a shade where there is no sunlight, there are high chances of having moss, debris or dirt accumulate and grow on it.

Method of cleaning or the method used for the removal of the debris, dirt and moss. If the method adopted or used is the wrong one, the unwanted vegetation will grow again.

The type of sealant coating used. If an inferior sealant was used, it will not be long and you will start noticing the growth of the moss, algae or lichen.
If your roof is facing the north and the moss has been manually removed, the average timescale for a re-clean can be up to 2 or 3 years. This can stretch even longer to 4 or 5 years if the roof was power washed and then treated with a good quality sealant.
Usually, moss takes longer to grow on roofs facing south due to the lesser amount of sunlight. The timescale for manually cleaned roofs will move up to 3 to 4 years and 5 to 6 years for a power washed roof.
However, if you notice a large amount of regrowth or you have visualised some damages caused by dirt and debris within the above timescales, please have your roof assessed to prevent further damage to the building.
Avoiding Rogue Tradesmen
Many rogue tradesmen can go to any length to make quick money. Most of them do not have any formal training and take irrelevant risks. Statistics has it that a quarter of Britons have been scammed by rogue traders at some point. Making the wrong choice may cause a heavy disaster and huge consequences. You could end up paying well over the odds or getting someone who does not know how to do the job properly. The worst case scenario is that they take your money upfront and leave without doing any work.
To ensure that you do all you can to avoid having a rogue trader knock on your door, try to adopt the following principles
Avoid quotes that are too low. As we want to save money, you must understand that you get what you paid for. You have read examples above about how much you can expect to pay depending upon which part of the UK you live in. If you get quotes that are way below the average cost of roof cleaning, then you have to be on guard.

Look out for the company online and look at its site reviews. Reading reviews will help you to build a mental picture of what you can expect from the company. Most sites with no or few or negative reviews are not likely to be a good recommendation.

Use a reputable tradesman's site which provides online quotes. The highly trusted sites will offer you a guarantee of quality tradespeople. Websites with a very strong reputation will deal with only professionals. The best websites will vet their tradesmen. The tradesmen will provide insurance certificates and other credentials.

Ask neighbours, family and friends to recommend anyone who they have dealt with personally and were happy with the services. Ask If they can recommend anyone or if they know anyone who has had their roofs cleaned in recent times. 
Having read all these simple steps, you are well on your way to having a nice clean roof again at the cost of your choice. It is a great thing to walk up to your home and feel refreshed looking at the roof instead of thinking on how to deal with the roof dirt someday.
Lastly
Keeping your roof clean increases its visual appeal. With regular inspection and upkeep on your roof, you can save a huge amount of money that would have been lost or spent on repairing damages caused by moss, debris and dirt. Whether your roof needs a minor maintenance or it is due for a full scale cleaning, it is always better to get the job done as soon as possible rather than leaving it for a later date. Look around and find a reputable company that you can trust and keep them for future use as well.
In addition, stock up some home maintenance products that allow you to keep your roof in high quality standards in between cleans.
References