Premium Restorations of Nottingham
​Roof Cleaning
0115-647-0066
Premium Restorations of Nottingham
0115-647-0066
Have you been searching for roof cleaners near me, or roof cleaning near me?
If so, you have arrived at the best place for all your roof moss removal needs.
We are specialists roof cleaners that operate in the Nottingham area and waiting for your call
Our soft washing method causes zero damage to your roof surface, as opposed to other more aggressive high pressure power washing methods used by some contractors  
Best rates, and friendly and reliable team
Call us first for affordable and professional roof cleaning
FREE QUOTATION
0115-647-0066
Any roof can start to look unsightly over a period of time due to the collection of dirt and grime, and other organic growth material, such as moss, lichen and algae. This is where our roof cleaning services can come in handy!
Roofs can become ugly and heavily stained with discolouration as bacteria like gloeocapsa magma sets in. Tile manufacturers and roofing associations recommend and advise against roof cleaning with high pressure water jets. 
This is why Premium restorations of Nottingham exclusively use the Soft washing method to clean all our customers roofs. 
Our alternative and safe roof cleaning technique is a welcome procedure, and much more friendly to your roof surface, whatever tiles you may have. 
High pressure water cleaning may strip and remove the dirt and moss from your roof, but at what cost? You risk damage to your tiles, cement work, and other roof fittings and fixtures. Also you have the likely danger of water flooding your loft area. Also, the moss will grow back more rapidly and aggressively, as the pressurised water jets disperse the moss spores all over your roof tiles, not what you really want when your main reason for this is to eliminate moss growth and stop it returning!
Is there a superior method? 
Yes and we use it on customers roofs all over Nottingham on a daily basis
 What exactly is soft washing?
Our soft washing technique utilises low-pressure cleaning technology together with 100% biodegradable roof cleaning solutions.
The soft washing eradicates the infestation of mosses, lichens, algaes, and mildew.  The biocide cleaning solutions sanitise the roof surface, doing 100% of the work, killing all the unwanted organic growth, not only at surface level, but the roots of the moss that can penetrate the tiles causing long term damage. It really does clean and protect your roof for far longer than pressure washing could ever do!
Soft washing is safer for your home, family and environmentally friendly too! 
Call Now For Fast Quote
0115-647-0066
Why clean my roof?
There are several different reasons why someone may decide to clean their roofs. For example, it may be because the exterior appearance of their house is deteriorating due to dirt accumulating on the roof tiles. Another reason could be that they want to extend its life by preventing major damage from occurring which can occur if there is moss accumulating on the surface of the tiles. Sometimes people do this because of health-related reasons especially if they have allergies and breathing problems. Finally, people do this for energy efficiency purposes.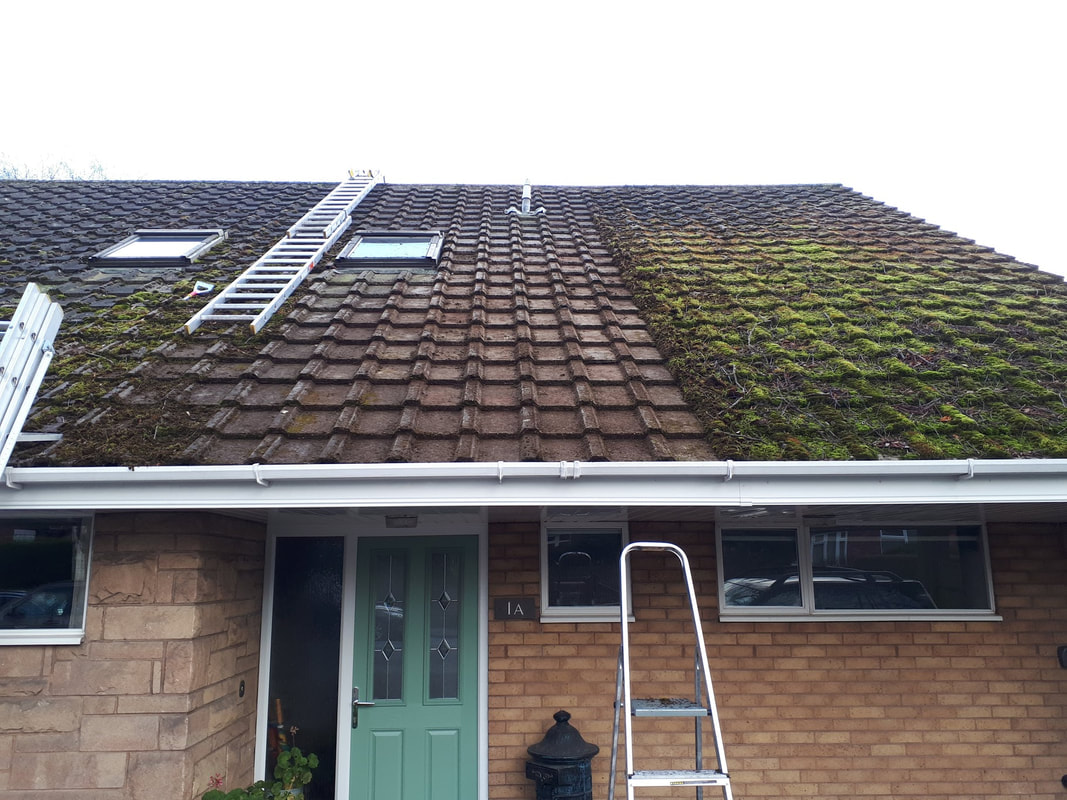 When should you get your roof cleaned?
Should you clean your roof? Well, that depends on the type of roofing material that you have. Generally speaking, if there are no stains or leaks visible on your roof and you do not find any mould growing at one of the edges then it is probably unnecessary to clean your rooftop. But this does not mean that cleaning should be put off for long periods of time. We recommend our clients to get their roofs cleaned every 4 to 5 years because it just prolongs the life of your roof. On the other hand, if your house has a dirty-looking roof then cleaning can help you improve its appearance which in turn increases the value of your property. So unless there are some problems with your rooftop getting it cleaned regularly is always advisable.
Roof cleaning cost 
The cost of cleaning a roof depends on many factors, such as whether your roof  is easily accessible or a difficult area to get to. The type and size will also affect how much work is required – this means that there isn't one "cost" answer for Nottingham roofs! To gather more information we usually insist on a site survey to gather the right information, so we can quote you the best and most affordable roof cleaning price for your particular roof. Our roof surveys are always free of charge and no obligation to purchase, but I assure you that our work is completed safely in mind, and we are fully insured for your peace of mind. 
So how much does roof cleaning cost?
Here is a guide on our roof cleaning in Nottingham prices to give you an idea on cost. Every job will be subject to survey, and will be followed up with a firm quotation.
Soft wash Roof cleaning and moss removal, plus biocide treatment
Bungalows start from £550.00
2 to 3 bedroom residential property starts from £650.00
3 to 4 bedroom residential property starts  from £750.00
4 plus bedroom residential property starts from £900.00
Commercial buildings, shops and business units please call for price
All work is subject to an initial survey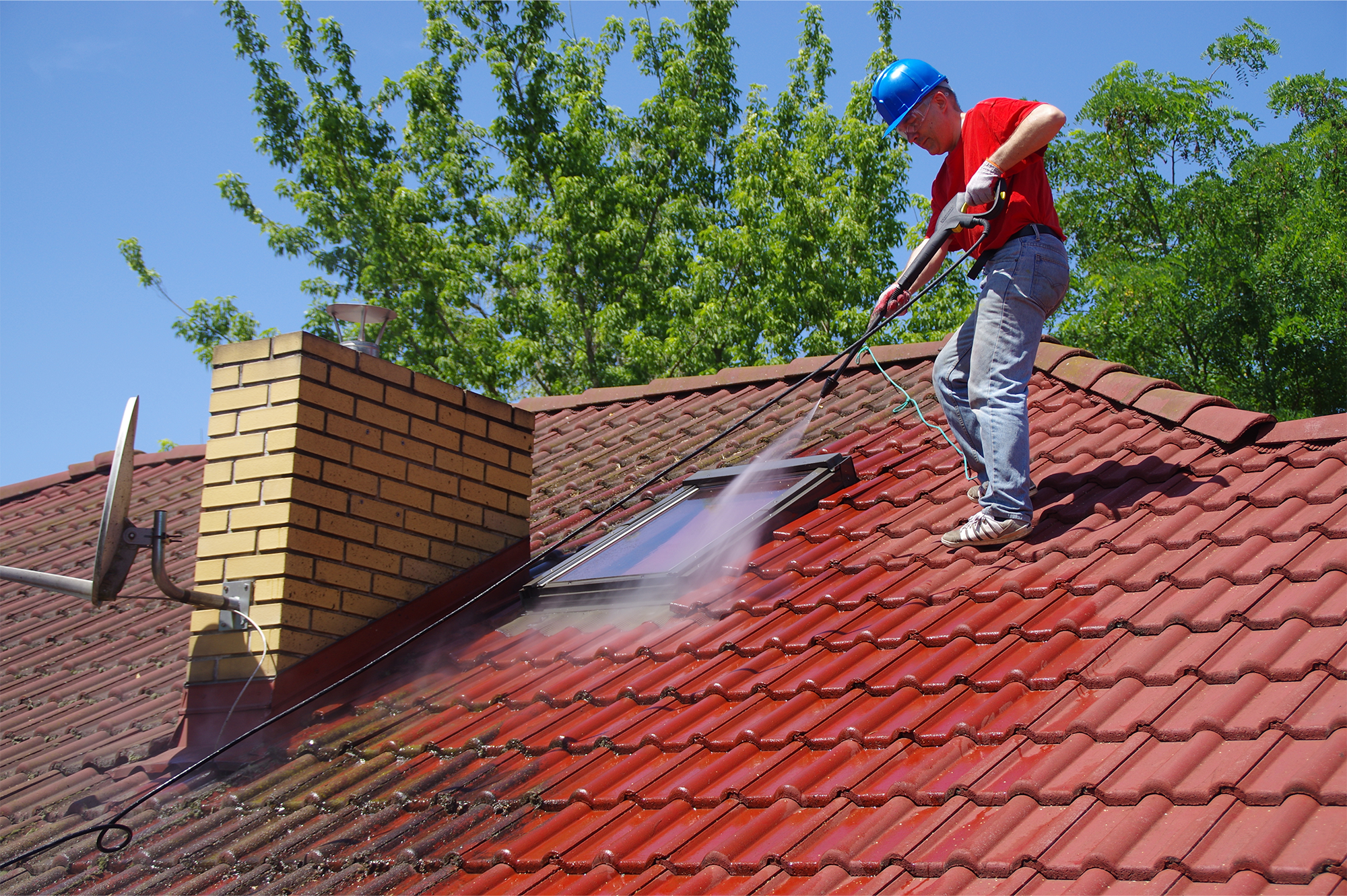 Increases Life Span Of Your Roof:
There are a couple ways in which soft wash roof cleaning helps to increase the lifespan of your roof. First, it removes all dirt significantly reducing the chances of black spots and mildew spots on your rooftop. Keeping your rooftop clean also means that there will be decreased possibilities of leaks developing as dirt can clog drains and other rooftop components.
Does Not Damage Your Roof:
While there are other methods that involve the use of very high-speed cleaning machines, soft wash roof cleaning is a safer alternative. The water pressure used in this method of cleaning is less than 100 psi and therefore very safe for your rooftop. These low pressures do not damage or break your roof tiles.
Protects Your Investment:
The traditional way of roof cleaning involves roof damage due to high-pressure washing and a lack of protective measures which make roofs more susceptible to wear and tear after cleanup. Soft wash roof cleaners incorporate protective measures such as safety ropes which means that only an experienced professional should be allowed on a rooftop during a soft wash roof clean up This reduces risks involved with working at height. We have our own aluminium towers that we utilise for reaching all roof areas. 
Soft washing roof cleaners are trained to be mindful of wear and tear to your roof tiles and surfaces during the cleaning process. Therefore, Soft wash roof cleaners are very experienced in working on all types of roofs providing you with a great service.
How long does the soft wash roof treatment last?
Many customers ask this question, how long will my roof stay clean? After the process. This is dependable on a few important factors, such as where your house is located and the surrounding trees and organic growth, as this can have an adverse effect on how fast the growth returns. So a house that is in an environment shaded by trees in a green belt area would probably need cleaning and biocide treatment once every 3 to 4 years, as opposed to a property in a built up residence might only require the service every 5 to 6 years.
Healthy and Safety:
The traditional way of cleaning using high-pressure washers leaves behind chemical residue in the water which can have negative effects on our environment when washed away due to runoff into nearby council drainage systems. By using soft washing roof cleaners there is no chemical usage involved in the cleaning process making it safe for both your family and our environment. The extremely low pressure means that less than 5% of any chemicals are through to the unfiltered water and if this does happen any chemicals that are left behind will be safely broken down by the ultraviolet rays of daylight.
Soft wash roof cleaning is a great way to clean your home's exterior, commercial buildings and even parking garages. A soft wash has the same effect as a pressure washer except that it uses about half of an average home's water usage per square foot. This makes it the more environmentally friendly option of both methods since at least there is less waste going out into our sewage system. In most cases a soft wash can be done from ground level without any need for ladders or scaffolding which also eliminates any safety issues from working from heights .
Roof cleaning equipment:
The equipment used by soft wash roof cleaners is extremely gentle and easy on roofs, windows, paintwork and many other surfaces such as patios and fencing. Hard high-pressure washers can strip the layers off paint work or crack tiles so it is important to use a professional soft washing roof cleaner when hiring an external contractor to do the job for you.
Gentle Cleansing:
Using low pressure and safe chemical free cleaning solutions ensure no damage to your roof membrane while also gently removing moss and dirt from all types of roofs without damaging the exterior cladding. This means even extensive cleaning  is possible without the need for expensive roof replacement. The right products are very effective at leaving behind a protective barrier that prevents 98% of moss growth, which means less time cleaning and more time enjoying your beautiful home or building.
Soft Wash Roof Cleaning vs Pressure Washing:
The soft washing roof cleaning method is much gentler on exterior surfaces than pressure washers, making it the best choice to keep roofs safe from damage caused by high-pressure water blasting. This gentle but totally effective technique can clean virtually any surface without damaging its structure with abrasive chemicals or high-pressure water streams. It's important to note that no high pressure roof cleaners are used during hot water pressure wash roof cleaning as this is extremely dangerous for the roof membrane and roof structure. In fact, low pressure roof cleaners are often referred to as soft washing roof cleaning or "water blasting" even though there is no actual blasting action involved.
Soft washing roof cleaning methods: 
It is a very useful method to remove dirt, mould and mildew; re-adjust the pH balance of the surface in order to prevent future staining; boost new vegetation growth by providing organic matter in proper amounts; restore protective properties to engineered, tarred or built up surfaces (EPDM rubber membrane roofs for example); restructure deformed granule surfaces (asphalt composition shingles) and make your roof look better than ever!
Soft wash roof cleaning or Soft Washing your Roof?
It's first important to separate the terms used to describe the process. The term 'soft washing' itself has many definitions depending on who you ask, but in this case we're referring to the chemical hydro-pressure process of using low pressure (300 psi) and low volume water application to gently remove dirt buildup from roofs. Many people can confuse soft washing with other forms of pressure washing which uses higher volumes and pressures modifications that are capable of stripping asphalt shingles off homes if not performed properly. With our service it is simply  a gentle and safe cleaning process that will not damage any roofing materials, pressure washing, on the other hand, can do more harm than good!
Which roofs can be cleaned?
Slate, concrete, clay or EPDM, fibreglass and standard asphalt flat roofs are best for this treatment, which is why our clients with these types of roofs have been so pleased. Soft wash roof cleaning can also add life to asphalt shingle roofs after removing mildew and algae from the surfaces. In addition, soft washing will remove soap film from windows making them sparkle. And because we do not rely on pressure alone to clean, downpipes and gutters stay blocked free! Water is all that's needed in a majority of cases. However when severe staining occurs, a small amount of acid may be added to the water in conjunction with the soft-wash process which further breaks down stubborn grime without  harming the surface.
FAQs about Soft Wash Roof Cleaning:
What are the benefits of using this technique for my rooftop?
You can plan or schedule your soft wash roof cleaning when the weather conditions are appropriate for it i.e. during dry days with hardly any wind blowing around. This ensures that there will be no damage done to surrounding trees and vegetation due to accidental drift of water caused by strong winds. Furthermore, completing rooftop washing with this process is much faster than traditional roof cleaning.
Are there any other methods that I can use to clean my rooftop?
Yes, you can also use a soft washing brush or even do it by hand to get rid of the dirt and residues clinging on your rooftops after the winter season. However, these techniques are time-consuming and require too much effort which makes them unsuitable for larger rooftops. Furthermore, they are not guaranteed to provide results as satisfactory as using soft wash roof cleaning equipment. New technology gives better results with less effort.
What are the different kinds of roofs I can clean with this method?
Any type of flat rooftop can be done through this technique whether made up of wood, concrete , or metal. Soft wash roof cleaning is a method which can be used on any type of rooftop and still give you the best results. There are no limitations as to what kind of rooftops you can clean with this method.
What makes soft washing more effective than roof washing with pressure washers?
Using high-pressure water jets to do your roof's cleaning job is one way of doing it but that is not without its problems. First, it uses too much water which could potentially cause water damage to your home and second, it does not always guarantee reliable results because most high-powered pressure washing equipment is very difficult to control even for professional cleaners.
Soft wash roof cleaning is far more advanced than using simple pressure washing equipment. It mainly uses a power washer, which is connected to a van-mounted water tank and it works just as any other high-pressure water jet does, yet it has been modified with its own unique technology that makes sure the right pressure is applied on your roof with just enough water being used.
The needed combination of pressure and velocity of the cleaning liquid stream ensures the safe removal from your rooftop of any hardened dirt particles, mosses, algae or other material that might be present there making regular water drains ineffective. This also means you do not have to worry about over wetting or possible damage your shingles can suffer during this treatment because all factors are carefully adapted according to certain standards set by industry professionals.
Do I need to worry about safety?
One of the most important aspects that should not be overlooked is the safety you and your family can enjoy. This soft roof cleaning is very safe for children, pets and even yourself as long as you follow basic instructions such as avoiding contact with face and eyes, and avoid inhaling the chemicals used. You also do not have to worry about slippery surfaces after treatment because the liquids applied will dry off really quick leaving no residue behind making it perfectly safe for everyone around before having a picnic on your rooftop again.  
Low maintenance – High returns!
Once you successfully complete this type of roof cleanup, you can rest assured that there is nothing but sanitised and flake free surfaces for a long while because the roof will be protected by a non-stick finish that rainwater can just wash off. No more moss, algae, mould, and no more dirt accumulating. All this means absolutely less maintenance and cost to you!
Contact us now for roof cleaning in Nottingham, your number one choice!
Contact: Premium Restorations of Nottingham