Premium Restorations of Nottingham
​
​Driveway & Roof Cleaning
0115-647-0066
Driveway Cleaning Nottingham
Premium Restorations of Nottingham
0115-647-0066
Driveway cleaning in Nottingham with our pressure washing
Are you tired of your dirty, grimy driveway or patio area?
Looking for Driveway Cleaning Near Me?
 Does it ruin the look of your home or business?
Well there is a solution!
Professional driveway services.
Pressure washing & Sealing Service
If you are like many people in the UK that has a  build-up of dirt, weeds, algae, lichen,moss, grime, oil, and dirt, well we can remedy that with our professional driveway power wash and driveway sealer services.
What Surfaces do we clean and Seal?
We are specialists in All Types of Block Paving Driveways, Pathways and Patios
Premium Restorations of Nottingham offer the most distinguished driveway cleaning and sealing services in and around the Nottingham area for many years. Our highly sought after specialist hard surface cleaning and renovation work, customer service and loyalty, has kept us busy and at the top of our game!
We use Hi-tech high pressure cleaning equipment to remove all the dirt, grime, moss, lichen and algae from all driveway or patio surfaces, which restores the area back to its former glory without any adverse effects or damage. 
Professional Driveway Cleaning and Roof Cleaning Services
If you require the services of a professional driveway or roof cleaning restoration company in Nottingham then you have just landed on the right page. We provide domestic and commercial cleaning services that will transform your driveway, patio, roof, rendering, brickwork or any other external hard surface back to its original condition. Do you have a problem with moss, lichen and algae? If so, we are experienced in the business of removal and eradication of these unwanted and nuisance organic matters from anywhere in your home environment. We offer various treatments for driveways and roofs including biocide washes that eliminate all organic growth safely and securely. All driveway surfaces after being cleaned and treated can be sealed in various finishes to hold off any further regrowth after being re-sanded prior to the sealing.
Regardless of what type of driveway paving that you have, It will always require periodic maintenance and professional cleaning and sealing at some point, if you want it to look good and keep that expensive driveway in top condition. Driveways get a lot of use and are susceptible to the harsh British weather as they are constantly battered by wind, rain, ice and strong UV rays. Also, another common problem is vegetation and weed growth like moss, lichen and algae which causes health and safety issues when it becomes slippery. Driveways are indeed an expensive investment and outlay so it pays to keep them that way. We can clean, seal and restore your driveway surface back to its former glory. Call now to see how we can help you.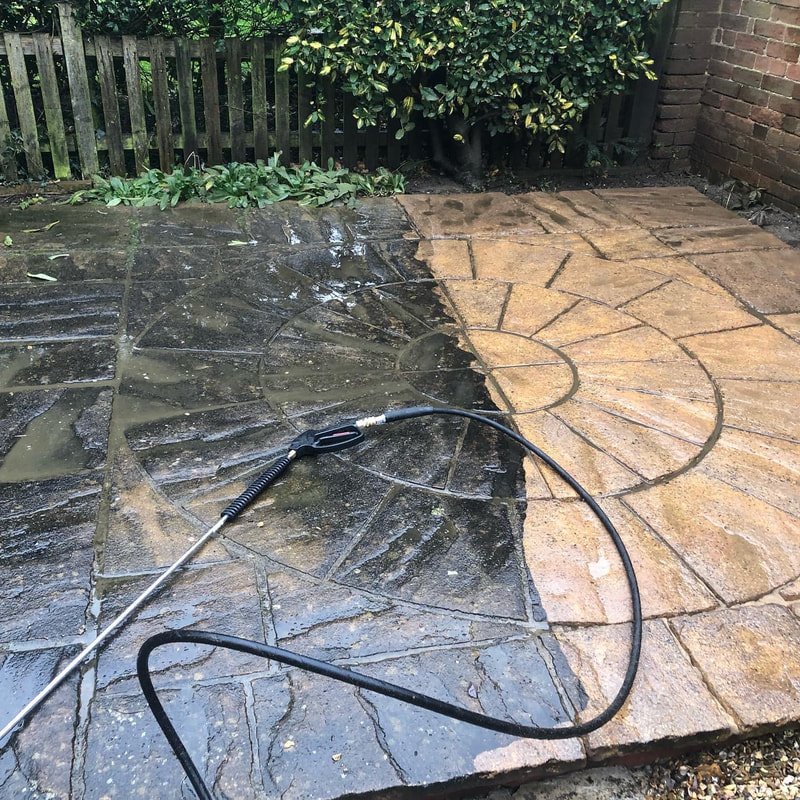 We have been deep cleaning and restoring patio areas for our customers for many years. This is a service that our customers really enjoy as it transforms their outdoor spaces again into beautiful patios and dining areas that can be utilized throughout the summer months while being aesthetically pleasing all year round. Just leave all this dirty work to us as we revitalize your patio, pathways and brickwork to their original condition. We have invested in all the hi-tech cleaning equipment to complete the job professionally and with less mess than a standard pressure washer, our special rotary cleaners keep all the mess and debris to a minimum and at ground level. Call now for a fast quote.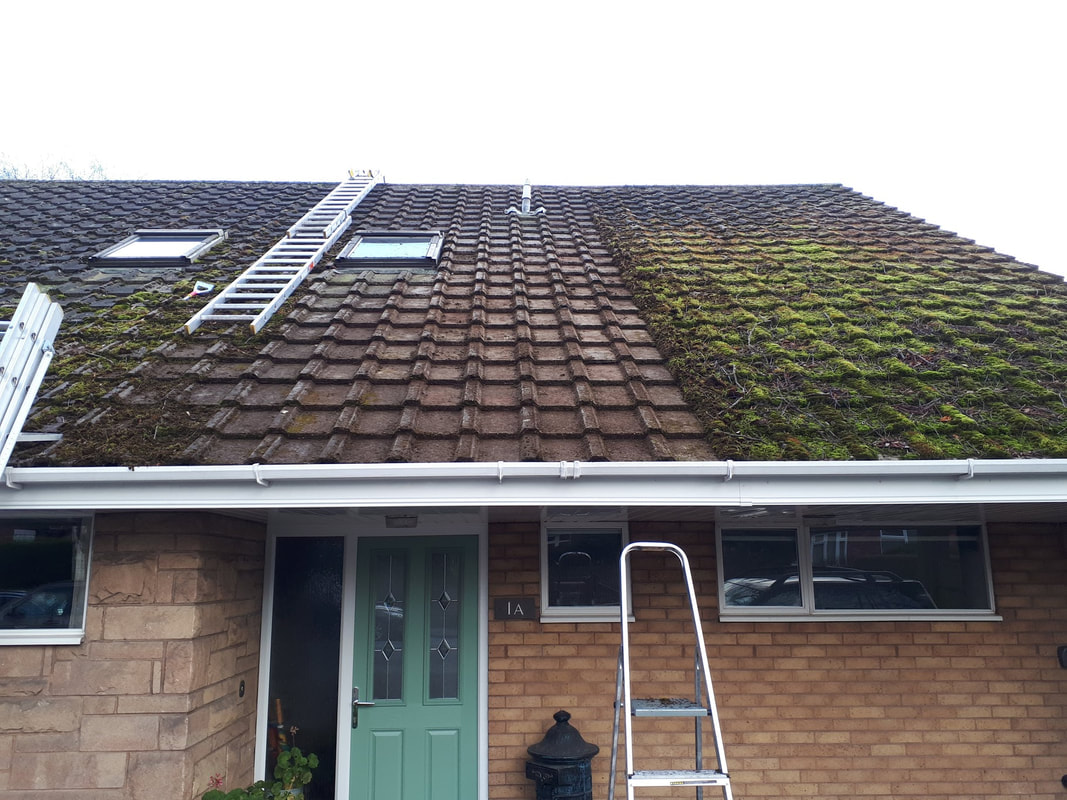 The years of accumulation of moss, lichen algae and dirt on the roof tiles of your property not only ruins the external aesthetics of your home but can cause much larger issues later on if not addressed properly. For instance, many people like to remove this unsightly moss algae and lichen just because of this reason, with our roof cleaning service. However, this organic vegetation is notorious for stripping away the protective layers of your roof tiles which leave your entire roof exposed to the elements. As the moss grows and takes root on the tiling, the actual roots penetrate the tiles and when freezing temperatures expand the roots it can result in split tiles and cement surfaces. A clean roof will be less likely to cause problems, your roof will last much longer and repairs will be minimal. Not only that your roof will look fantastic!
Solar Panel Bird Proofing
If you are unfortunate to have pigeons nesting under solar panels, then our solar panel bird proofing is the best way to keep them all out altogether, for good!. These unwelcome guests that are nesting at the rear of your panels are noisy, unhygienic, very messy, unhealthy and if left unattended can cause expensive damage to your solar panels. We have a solution to eradicate this problem, humanely and safely which protects and guarantees against future infestations of your panels, and give you back the peace and quiet that you were accustomed to.
Driveway maintenance 
Block paving driveways are a common sight in many residential areas. When choosing to have a block paved driveway installed, it is important that a regular maintenance program and cleaning services is implemented for these types of driveways, as they can easily become dirty over time. After years of driving up and down, rainwater, melted snow, salt from the road, mud, oil stains from cars, etc. can build up on your driveway making it look dirty and unsightly. You may also notice that driveways tend to get more slippery in wintertime when it's raining or snowing. 
As with many problems in life, the best way to get rid of moss on your block paving driveway is prevention. Block paving can provide a very 'clean', strictly defined, and neat look to your garden, which is why it has become so popular over recent years. Unfortunately, this isn't always best for your driveway and can lead to issues such as black spots and moss growth.
Block paving surfaces are a popular choice by construction companies as they are designed to be easily cut into shape with relative ease and include spaces around them which allow water to drain through their surface. They are an attractive option when constructing newer properties because they offer added structural support compared to standard asphalt driveways, making them more durable in harsher weather conditions. Regularly scheduled block paving driveway cleaning and sealing services will help maintain the beauty of your property and keep it looking fantastic all year round. 
Block Paving Driveway Cleaning and Sealing Services
When this happens some people decide to replace the existing pavement with new units while others opt for repairing it instead. A popular alternative however is having your block paved driveway professionally cleaned and resealed by our professionals at Premium Restorations of Nottingham. By using powerful jet washing equipment and specialist cleaning solutions we can remove most stains and debris from the surface, making it look new again. We're also able to check for any damage or problems which may need further attention such as block displacement before replacing the kiln dry sand between the blocks, and performing high-quality reseal. Your Block Paved Driveway Will Look Like New Again!
What kind of surfaces do you clean and restore?
We professionally clean and seal all types of hard external surfaces including the following, block paving, patio slabs, Indian sandstone, concrete, tarmac, resin driveways, imprinted concrete, porcelain tiles. Our roof cleaning team cleans tiles such as concrete tiles, slate tiles and clay tiles. We also clean other residential and commercial surfaces like brickwork, timber, render and all external PVC like fascias and soffits, guttering, decking and glass conservatories. If you are not sure please contact us for advice
Is it worth sealing my block paving?
There are many good reasons to have your block paving sealed on a regular basis. This first and foremost will be the protection it ensures against the elements. You have paid a lot of money for your driveway and you want to keep your investment looking pristine. Other advantages our sealing process offers is protection from UV light which can cause fading, heavy stains, moss, algae and lichen growth, eroding from the weather, discolouration and the sealer also binds together the jointing sand that locks your driveway together. Call now for a quotation for cleaning and your block paving.
Can you remove all the staining on my driveway?
Upon our initial visit and survey, we will assess the degree of staining and be honest with you upon our appraisal. We will always our utmost to remove any stains that you would like eradicated. Even though we have some specially formulated cleaning agents that are not available to the general public, we can still not guarantee that all stains can be 100% removed. If you talk to a company that promises that they can, do yourself a favour and hang up the phone as they are not to be trusted. All stains can be improved, but not necessarily removed.
Will you replace the sand between my block paving?
Yes, once we have cleaned your block paved driveway and happy with the result, we will then sweep in the new kiln dry sand that was removed during the cleaning process. The blocks must be bone dry for us to complete this part to ensure the sand travels all the way down between the blocks.
Will the weeds return after the sealing process?
Your driveway will be weed-free after our initial weed treatment, cleaning and sealing process. However, it's impossible to stop future weed growth from occurring again over time. Our excellent driveway sealing products will drastically slow down the return of any vegetation and a regular maintenance program of cleaning and sealing will keep your block paved surfaces looking new, fresh and weed-free.
Do i need to be present when you are cleaning my driveway?
No, as long as we have an external water supply. Our machines are petrol driven so we are self-sufficient when it comes to power sources. So yes you can go to work and when you return your driveway will look fantastic!
How much does driveway cleaning cost?
The cost of driveway cleaning will vary from job to job. This is why we always prefer to look and assess a driveway before committing to a driveway cleaning price, we find this is a fair way and keeps everyone happy. We have to take everything into account first, such as the age of the driveway, how bad the growth of weeds, lichen, and algae infestation has become, oil, tyre marks and other staining present, and if there is any damage prior to the cleaning, as this will need to be addressed first. Once we have taken all this into consideration we can produce an honest quotation for you, with no hidden extras or costs at a later date. Please be careful of driveway cleaning companies that are prepared to give you a price over the phone, as I can assure you that if you accept, it could mean additional costs when they turn up to do the job! With our price you can be certain that the price we give will be the price you will pay!
It is important that you get an accurate quote before accepting the job, if the estimate seems unreasonably low then it may be possible that corners are being cut on quality; conversely, if the price seems way too high, it's possible they'll try to use products and methods which are overly aggressive or damaging to your drive-way surface – do not accept this.
What type of machines do professional cleaners use?
There are two main machines used by professional cleaners for block paving cleaning. The first of these is known as a pressure washer, or 'pressure-washer', which operates at extremely high pressures, which are measured in bar. A typical machine of this type will have between 1 to 3 bar of pressure, the higher the number on the end, the stronger and more effective it will be at removing dirt.
How long will my driveway take to clean?
Depending on the extent of cleaning necessary, you can expect most jobs to be completed in one day. However, sometimes thorough cleaning may require additional days for complete preparation before cleaning or sealing.
If weed infestation is rife, we may need to treat the driveway a week or so before cleaning takes place.
Contact: Premium Restorations of Nottingham