Premium Restorations of Nottingham
​Roof Cleaning
0115-647-0066
How To Clean An Asphalt Driveway
If you have an asphalt driveway, there are probabilities that it becomes more dirty over the years. Fortunately, cleaning it is simple and only needs a few tools. Below are some explanations on how to clean your asphalt driveway
Removing Dirt/Detritus
Before you go deep into cleaning your asphalt, you will want to get rid of most dirt and grimes from the surface. Using a long-handled broom with stiff bristles will help brush off all the dirt from the cracks and cranny. Ensure you apply pressure to loosen up the debris. Once you have cleaned the surface, you proceed to pressure wash them.
Eliminating The Stains 
If you are trying to get rid of some stains or the pressure washer did not get rid of the stains, you can think of trying one of these options below to get rid of stuffs like oil, dead leaves, grease, mud, droppings from birds and so on, try out;
Baking Soda
Sprinkle some of it over the oil or grease stain and use a long handled push broom with a hard bristle to scrub in the baking soda into the stain. Leave to stay for about 30 minutes, then rinse off with a garden hose.
Cat Litter
Cat litter is another good method for wet stains. Cover the area with clay-based cat litter and allow it to stay overnight. In the morning, scoop up the litter and dispose of it properly.
Coca Cola
Clean away any excess oil or grease, now pour 1-2 bottles of coke onto the area. Let the coke stay overnight, then clean the area with clothes in the morning.
Laundry Detergent
Sprinkle some powdered laundry detergent onto the stain and add a bit of water. Scrub the mixture into the affected area using a long handled push broom with stiff bristles. Allow to rest for about half an hour, then rinse off with a garden hose. To ensure your asphalt does not get stained in the future, consider sealing it using a professional sealant.
How To Clean An Asphalt Driveway With A Pressure Washer
A pressure washer can be a very good tool for cleaning asphalt driveways. If you do not have any one, you can simply hire one from your local home store. Begin by pretreating the asphalt with a pressure washer detergent, choose one that is made with mild cleaners that has no harsh chemicals. Apply the detergent and let it soak into the surface. Later, use smooth, sweeping movement to pressure wash the whole area, the detergent should help loosen any stuck on grime or detritus.
Of course, you can use a pressure washer on your driveway but before you take out the washer to spoil things, you need to take some precautions and follow procedures for a thorough job that will not damage the surface of your driveway. The procedures are as follows;
Clear The Surface
The first thing you should do is to clear your asphalt in preparation for pressure washing. Take out furniture, planters and any other decorations near your driveway before you start to sweep all the dirt off. The more detritus you sweep off the easier it will be cleaned up.
Inspect For Faults
Take a walk around your asphalt driveway and inspect for problems like, crevice, dent, potholes, pitting etc. Circle the affected areas with a white chalk and try to stay clear from them when you are pressure washing. The force from pressure washing can worsen the present situation, if possible, focus more on how to get the issues fixed by an asphalt contractor instead of pressure washing.
Begin To Pressure Washing
When your driveway is looking neat and the oil stains are treated, it is the right time to use your pressure washer. Begin by setting the pressure washer on a low setting, work in orderliness from one side to the other side. If your driveway slanting starts on the higher top side, wash your way to the lower extreme to prevent blasting or returning of the dirt and grimes over formerly cleaned areas.
Caution: Asphalt is a hard surface but it is not invisible. Tuning your pressure washer to the lowest settings can be able to clean dirt and debris from your asphalt. High settings can possibly cause damage or make the present situation worse than it is already. Avoid pressure washing a particular spot for a longer period of time.
How To Clean An Asphalt Driveway Without A Pressure Washer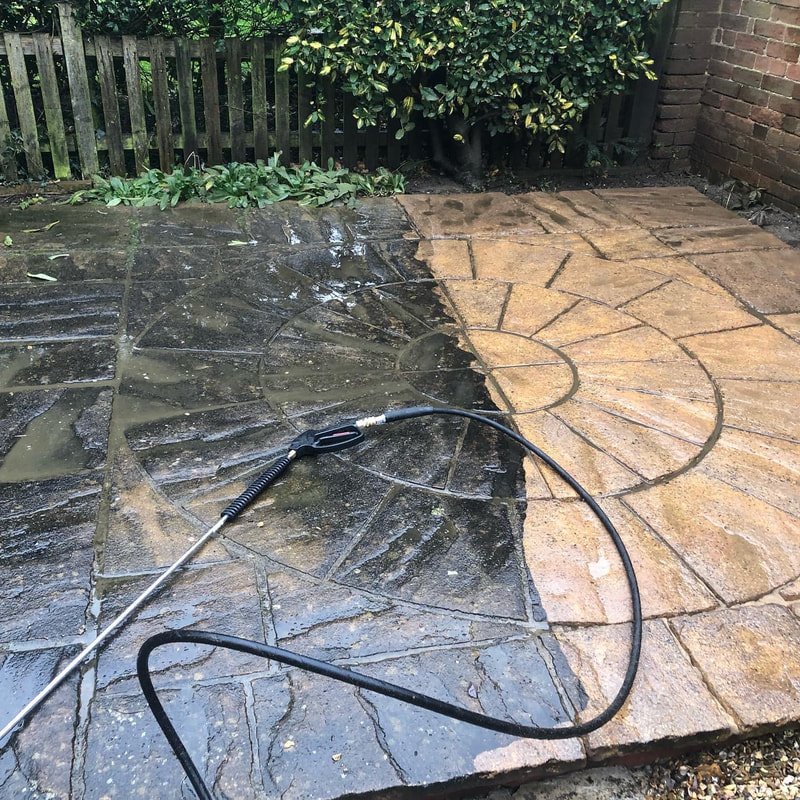 Luckily, there are ways you can clean your driveway without a pressure washer and still get good results. Below are the methods you can use to clean if you do not have a pressure washer.
Use Broom To Get Rid Of Dirt.
The first thing to do before cleaning your driveway is to sweep it. Sweeping your driveway with a hard bristled broom is going to be needed in order to get rid of all the dirt on top of the layer of your driveway. If you have a deck brush this will then do the job real good for you. You just need to try  being as thorough as possible when doing this so that you can get rid of all the dirt. You can still get a brush that has multifunctional features like a jet-broom, this can allow you to clean up stains right after they occur and it can also shoot water downwards while you are scrubbing away dirt and grimes too. Even if you only have just your standard hard broom, it is still possible that you can still achieve good results. Just move through every inch of the driveway with the broom to make sure that you get rid of more stains as you can.
Make A Cleaning Solution.
The next procedure is to make a cleaning solution that will enable you to get your driveway sparkling clean again. To do this, you are going to buy some washing soda if you do not have any at for immediate use.  Washing soda looks very similar to baking soda, but they are a little bit different though. It is advised to use the washing soda for this procedure since it is going to work perfectly well for what you are trying to achieve. Once you have gotten your washing soda, you will have to dissolve 2.5 ounces of the washing soda into a gallon of warm water.  You can increase the quantity of your solution depending on the size of your driveway. Get as much warm water as required and add the right amount of soda to create an active solution.  
Scrub Deeply Using A Deck Brush.
Next, you will have to take your time to scrub the driveway deeply using your deck brush and some muscles.  Dip your deck brush into the solution that you have made, then start scrubbing the surface of the driveway. This can possibly consume a lot of time, but you should be able to clean the driveway for it to get neater. Do not try to be in a hurry to get over the cleaning of the driveway with your deck brush, you can stop at intervals, relax and continue again by re-dipping your deck brush into the solution. It is also going to be ideal if you begin to scrub at the lowest part of the driveway and scrub all the way up to the higher tops. This procedure is a little bit more intense, it is going to yield good results at the end. You should be able to remove some stains as long as this process makes your surface look a lot neater than before and you will achieve a lot better if you take the time needed to scrub away all that dirt. In fact, on the process, some stains may be difficult to get rid of though, especially if you have deep oil stains, it might be hard to remove the stains without many dipping and scrubbing processes with your deck brush. Some persons usually have issues removing some stains from the driveway even when they make use of a pressure washer. It all depends on how dirty your surface appears to be and the kind of stain you are working on. Irrespective of all this, you are still going to be able to get your driveway looking neat and nice again with just only a deck brush and your cleaning solution. It will not cost a fortune to get all your needs to get the job done and you will still be able to  achieve a lot without using a pressure washer at all.
Round Up Washing With A Hose.
Once you are done scrubbing and washing your surface very well, the next thing is to go in with a hose to rinse off the driveway. There should be a type of attachment for your hose that will allow you to spray water with a bit of a powerful blast.  Some people have a pressure attachment for their hoses in case they need to clean their driveways. They are always available and are not too expensive though.  It does not matter if you have one of those or not, your aim is to spray off the driveway starting from the top of the driveway and allow everything to flow and wash down freely to the bottom point of the driveway. As soon as you are done with cleaning, you should be able to stand back and inspect your driveway. If the cleaning was successful then your driveway should be exceptionally better than it was before you started cleaning in the first place.
Try Using A Cat-Litter 
If you accidentally spilled some oil on your driveway when trying to change your car oil, this can happen because you were in a hurry, and it can be tiring to have to be reminded of your errors by looking at the huge oil stains on the surface. If cleaning your driveway with washing soda and warm water did not work for you, then you should try another thing which is cat litter, this can help with getting things to look good again. The main objective is to spray the cat litter on top of any stain you see on your driveway, this should assist in getting rid of oil stain, grease stain and other kinds of stains you are dealing with. Place the cat litter on the main stain and make sure there is a thick layer of the litter. Wash the litters with your normal washing soda and warm water. This cat litter is a good trick which can even be more effective if you use it quickly over a stain that was caused. Try to leave the cat litter on the driveway for about 12 hours before resuming to sweep it off. Cat litter is not the only stuff you can use, some people prefer sawdust, but bear in mind that cat litter is more likely to be handy for urgent use. Anyways, it is a good hack to have around when trying to get rid of stubborn stains especially when you have no pressure washer.
Scrub With Vinegar
This is another method that can help you get rid of some kind of stain. Vinegar is a strong cleaning agent that can be used for different purposes and it can assist with the driveway cleaning as well. What to do is to mix the vinegar in equal parts with warm water. As soon as you have mixed your solution, you can pour it in a bucket or in some kind of spray bottle.  If it is in a bucket, you can just dip your deck brush inside the bucket of the vinegar solution and begin to scrub your driveway. If you are trying to only wash some particular spot of the driveway, it can be okay to spray the solution on the driveway. You should be able to observe that the simple vinegar solution will assist you in your driveway cleaning and makes it very neat. This method is not much of a difference when using a washing soda, but it is good to know that this idea is always handy when you do not have washing soda available. It is beneficial to have vinegar at home as it can help clean other kinds of surface features in your property as well. For instance, you can use vinegar to clean your patio and other walkways you might have at home.
Making Use Of Bleach
If you have thoughts of using bleach in order to help with cleaning the driveway, it is something that can turn out to be good but it would be recommended that you proceed with caution if you must use it. Bleach can be very harmful when used carelessly, it has the power to hurt both plants and humans too, so for this reason you must try to keep it far away from sight. The fact that bleach can possibly harm the leaves of a plant, makes it even a good reason for people not to make use of it for cleaning driveways. But if you must use it you must have to be very careful not to allow it to come in contact with plants, grasses and flowers too. It is usually helpful to use bleach in trying to clean off a really tough stain, but you can make a solution from the bleach and pour on stained parts of the driveway. Allow the bleach mixture to rest on the stained area for about 10-15 minutes before you scrub it out. You should observe a huge difference after cleaning your surface and this is safe so long as it was used cautiously. It is good to know that you put on hand gloves when working with bleach, because you would not want to come in contact with the bleach so that it will not cause you any irritation on your skin. You may even go as far as wearing a mask if possible to help avoid inhaling the fumes from the bleach. In conclusion, as long as you are careful, using a bleach for cleaning is quite okay.
The Trisodium Phosphate
This might not be a cleaning solution that will be stronger than what you made from washing soda. You might be thinking why it is not recommended to use TSP instead of a washing soda, but TSP has its disadvantages to consider. This is a strong  cleaning agent that can assist you to remove some stains and clean up your driveway nicely. It is also toxic just as bleach and needs to be handled with extreme caution. This chemical is something that needs you to put on hand gloves, safety goggles and a mask when you are about to make use of it. You need to as well avoid letting any of the TSP touch your grass, plants, flowers or even persons. If care is not taken it can easily wind up killing some portions of your lawn or flowers if you allow the chemical to drop into the wrong place. This entails that using it for general cleaning of the driveway is a bad idea. You may have a better experience when using a TSP to clean a particular area. You can as well use it when you have tried using soda and the stains are just tough to clean off. 
Conclusion
Finally cleaning your driveway is something that can be done even without you having a pressure washer and it is going to take a bit of hard labour but that does not imply that you can not get a good result after that. It is not too important to go get yourself a pressure washer just so you can clean your driveway, but it does not mean that you getting one will not be of good use to you if you want to invest in it.