Premium Restorations of Nottingham
​Roof Cleaning
0115-647-0066
Patio Cleaning Nottingham
Premium Restorations of Nottingham
0115-647-0066
Professional Patio Cleaning Services by Specialists
We clean and restore any type of patio surface
Bring back the colour to your patio area ready for the summer
 By removing all the dirt and grime, weeds, algae, lichen and other unsightly marks
We Guarantee 100% Satisfaction
Free Survey & Free Quotation
Reliable and Cost-effective Patio Cleaning in Nottingham
By
Professional, reliable and trained Staff
We are the Number One
Eco-Friendly Pressure Cleaning Service in Nottingham
Call Now For Fast Quote
0115-647-066
Patio cleaning services
Your patio needs proper care if you want it to last for years to come. It doesn't take long for dirt, grime, bird droppings, moss, lichen, weeds, etc., to build up on a patio surface which can eventually lead to costly repairs later down the road if not maintained on a regular basis. 
Getting your patio cleaned is simple with Premium Restorations of Nottingham. We provide thorough high-pressure washing and sealing services for patios in and around the Nottingham area. We have been serving residential homes and commercial businesses for 10 years now.
There are different types of patio patios and we do them all, we can give you a free estimate before we start the job if you call us on 0115-647-066
The patio cleaning process:
First, we prepare our machines for spraying and start washing your patio. Second, after cleaning it up very thoroughly with water (and detergent sometimes), we rinse off all of the remaining dirt with high-pressure water jets. Lastly, we apply special sealants to protect your patio from any possible stains in the future in order to avoid using harsh chemicals that might damage its appearance in the long run.
We have been providing quality services in the Nottingham area for more than 10 years and we know all the best techniques and products for the job.
Does pressure washing damage the patio cement joints?
If the cement is old and in poor condition, pressure washing may damage the existing joints, but this is to be expected if moss or algae has deteriorated them already. If we suspect this could happen beforehand we can either complete the patio cleaning with our soft wash method, or we can go ahead with pressure cleaning and replace cement works afterwards. 
When to clean patios?
Our experts recommend cleaning patios in late spring when everything is starting to thaw and moisten up. This way, you get to remove all the dirt that has accumulated over winter and there will be no risk of staining your patio during or after this process.
Advantages of hiring a professional company:
We offer professional patio cleaners with extensive experience and deep knowledge about what needs to be done in order for you to enjoy perfectly clean and ready-to-use outdoor areas. Our team consists only of fully vetted technicians who value their reputation as much as we do so they always perform quality services to customers' total satisfaction.
We use only the most efficient and safe equipment available on market: pressure washers, rotary cleaning machines and high-pressure steam cleaners. Thanks to these tools we can easily get rid of all kinds of dirt so your patio will be left spotlessly clean and oil or water stains removed for good.
Patio cleaning is an affordable service that does not require much time from you, only a few hours in fact. This way you do not have to add another activity onto your already stressful schedule − You will no longer risk damaging the surface when using detergents from local stores, even when following instructions from manufacturers carefully. Our team is trained in handling this equipment properly to ensure everything turns out great with no damage.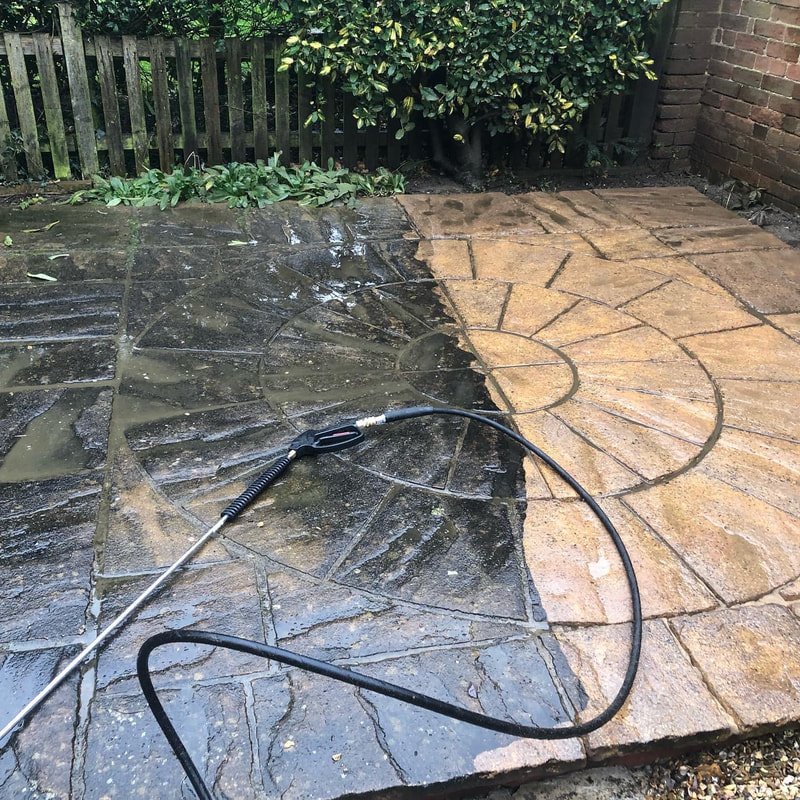 Health and Safety
There are many advantages of getting your patio moss-free and clean. They will be brighter than before after the patio cleaning procedure. Also, your house looks more attractive when you have brightened up the patios because the colour of the home also reflects on them. By getting your patio power cleaned by experts, you can avoid any injury that may come to you while trying to clean the surface unprofessionally by using harsh chemicals like bleach which can be dangerous in the wrong hands!. Your family will also feel secure knowing that you are not using toxic chemicals which could be harmful to them.
Pressure washing patio
Pressure washing equipment is used to clean patios, paving slabs, or driveways. The best option for cleaning a patio is given by the combination of hot water and strong detergents which are distributed uniformly throughout all the surfaces treated. With this technique, it is possible to remove grease stains without damaging the concrete's uneven structure.
Pressure cleaning a patio – what are the benefits?
Many homeowners who have recently had a new patio installed or a re-surfaced one will want to make sure that they keep it in pristine condition for as long as possible by giving it some TLC from time to time. Pressure washing is an effective way of keeping these kinds of surfaces clean and free from dirt and grime build-up so that they look good as well as are safe to use too. It can also be used on older patios that need a bit of freshening up.
Regular Pressure washing and maintenance make it much easier to remove any mould or algae growth from the surfaces and this very often helps make the colours pop again too. For instance, if you have dark coloured pavers, pressure cleaning can help restore them to their original colour and make them look like new again.
It is also great at keeping dirt off surfaces so that they will not become slippery when wet, which is very important for concrete patios especially as they are often used by people with pets or young children who are likely to have accidents on slippery surfaces. Of course, being able to easily clean these areas will prevent these sorts of accidents from occurring.
If you have an outdoor area that is made up of pavers or garden tiles, it is very important for the patio cleaning to be done regularly so that general dirt does not build up and cause the surface to become slippery when wet. Also, if algae or mould growth can be prevented by regular pressure washing then this will go a long way to helping prevent awkward stains happening on these surfaces in high traffic areas like doorways etc.
It really doesn't take much effort to power wash your patio every couple of months, especially with modern electric pressure cleaners becoming more powerful and lighter in weight than ever before. You will also find that most cleaners come with various different nozzles for specific purposes like removing marks etc, which
How Much To Clean A Patio
There is not a standard price for patio cleaning which can be applied to all types of surfaces. There are factors such as material, amount, and type of dirt which will interact with each other and determine the cost of pressure washing. When we speak about concrete, Indian stone or Imprinted, we may say that the average price for cleaning such a surface falls between £100 and £300 on average, depending on how many square metres you need to cover. We may add up another £100 for more detailed work such as removing paint stains or oil spots from car traffic on your patio surface. We offer a free survey and quotation for all patio cleaning work. Here we can discuss your patio, and the best method to clean and seal if required. Call us anytime to book a free consultation. 
What types of patio surfaces do you clean?Most people ask us to clean their patios, walkways, and driveways. We do most types of surfaces including flagstones, brick pavers, block paving, stamped concrete, natural stone paving, and timber and artificial decking.
Professional patio cleaners in Nottingham
If you need to clean your patio or resurface it, hiring a professional company is the best way to ensure the job gets done properly with less risk for problems such as cracking or other permanent damage that can occur by cleaning incorrectly. There are different types of cleaners used depending on what material your patio is made out of. Some cleaners use pressure washers while others will use rotary tools along with various chemicals. Make sure you look into before getting estimates how they clean patios and what materials your patio is made out of. Once your surface has been cleaned and sealed, it's ready for re-coating if needed and should be able to last for at least another year. If you have a concrete patio, you might want to consider sealing it before the cleaning. This would allow for better results after your patio is cleaned.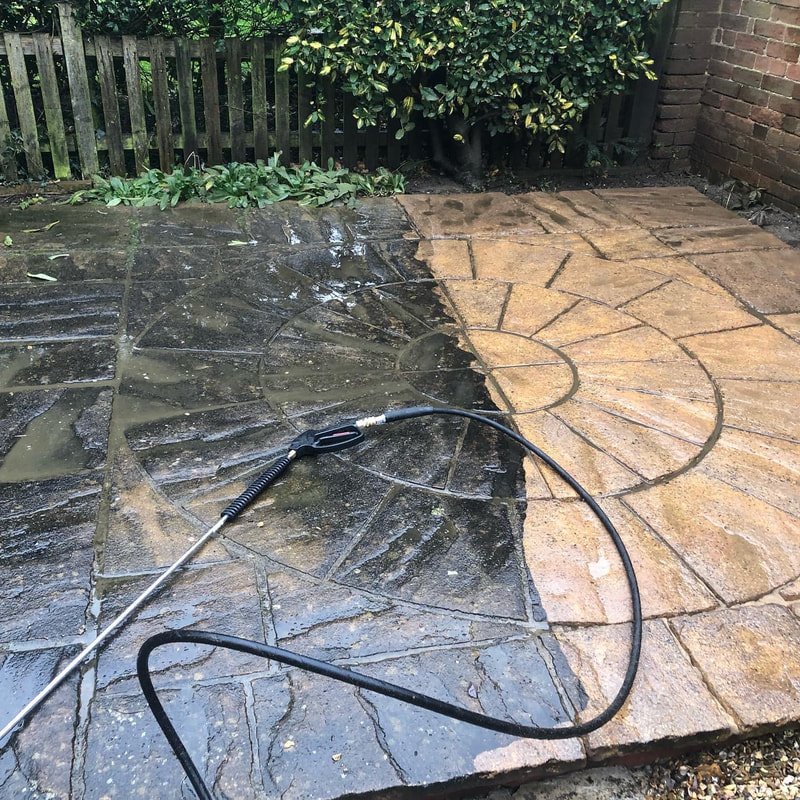 How to find a good patio cleaner in your area
Patio cleaning services are offered in many locations, but it is quite difficult to find one that does an excellent job. You can use some tricks to find the best patio cleaners around you.
First of all, make sure to check whether you are actually dealing with professionals or not. If they claim to be professionals, ask for some evidence which will confirm their claims. If they are unable to provide anything substantial – walk away and look somewhere else!   
A good approach is checking out reviews on the internet – the pros and cons alike should help you pick a better service provider. Pay attention also to what kind of guarantee these guys offer – it's always nice having some additional protection and if everything goes well – you will never need it anyway .
The more experienced the cleaner is, the higher your chances are of getting a perfectly clean and pristine patio without any stains and dirt left on it after the job is finished. If you choose someone who's just starting his career or has little to no experience whatsoever – you will probably be sorry in the long run since there is a small chance that they might not be able to get rid of all types of stains.   
If you don't feel confident enough in their skills, consider asking for references from past customers or checking out online forums where people usually discuss such issues. That way you will be able to learn about other people's experiences which, in turn, might help you make up your mind about whether this particular service provider is worth hiring or not.
Tips on cleaning your own patio
When you do the patio cleaning, try to start at one end and work your way back to the house. This will allow you to see how well your work is progressing. If you are pressure washing patios or decks, make sure they are dry or wet down before using the machine. The water supply should be on full power for better results. Make sure no one is standing nearby when you use this method because there could be debris flying around such as grass, stones, and rocks that could cause injury if hit by them. Cleaning a patio with a brush can take longer but it gives better results than other methods. Using this method allows for more elbow grease which means getting into all of those small grooves and cracks that sometimes accumulate dirt over time. If you are using a pressure washer, make sure to use the lowest setting possible so you do not damage your patio surface such as eroding it, especially if it's made of natural stone.
Patio cleaning is important for beauty and style reasons. It also helps to prevent diseases and bacteria due to accumulated dirt that's difficult to clean in cracks and grooves. The best way to ensure your patio stays in good shape is by sealing it annually or semiannually depending on what material your patio is made out of. Sealing the patio will help when needing to clean it because once sealed, debris such as algae cannot stick onto the surface making the job easier when having to power wash it. Putting sealant down also protects the patio from stains and everyday damage.
Soft washing patio cleaning
Pressure washing is a quick way to clean your patio. However, using a power washer can be dangerous and damage the surface of the patio. Pressure washing will strip off sealants and damage all surfaces – even concrete! In addition, the cleaning solution used with pressure washing often fails to remove dissolved contaminants from pores in porous surfaces such as brick or natural stone. Some companies have opted for industrial-strength chemicals to try and boost cleaning results but this causes more problems than it solves. The high-pressure water not only leaves behind a dirty residue that penetrates into the pores but also strips away any protective coating on your patio, or seals in dirt and stains permanently by removing the top layer of the resin overlay over your decking. Soft cleaning such as patio cleaning leaves behind no harmful chemical residue and does not damage the texture of your paving.
Contact: Premium Restorations of Nottingham